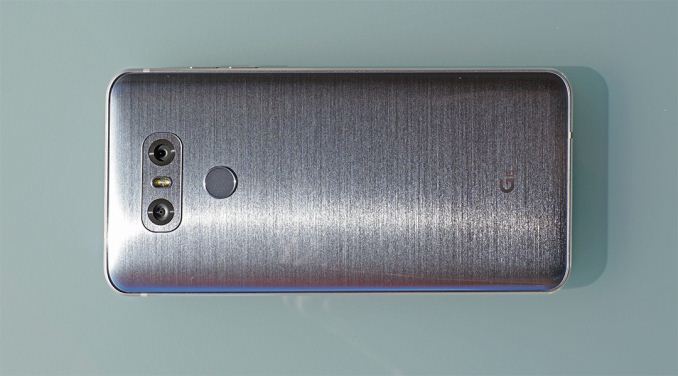 Today in Barcelona, LG officially unveiled the G6, the next installment of the venerable G-series that's now classified as a lower-end flagship below LG's V-series. Like the G5 before it, the G6 receives a significant makeover, with an all-new design, a bigger display, and updated hardware.
In an effort to boost sales last year, LG modernized the G5's design and construction and gave it a pair of features that set it apart from Korean rival Samsung's Galaxy phones. It switched from a traditional plastic construction to a thin, all-aluminum chassis that was painted over to hide the antenna lines. The previous model's rear-mounted volume controls were relocated too.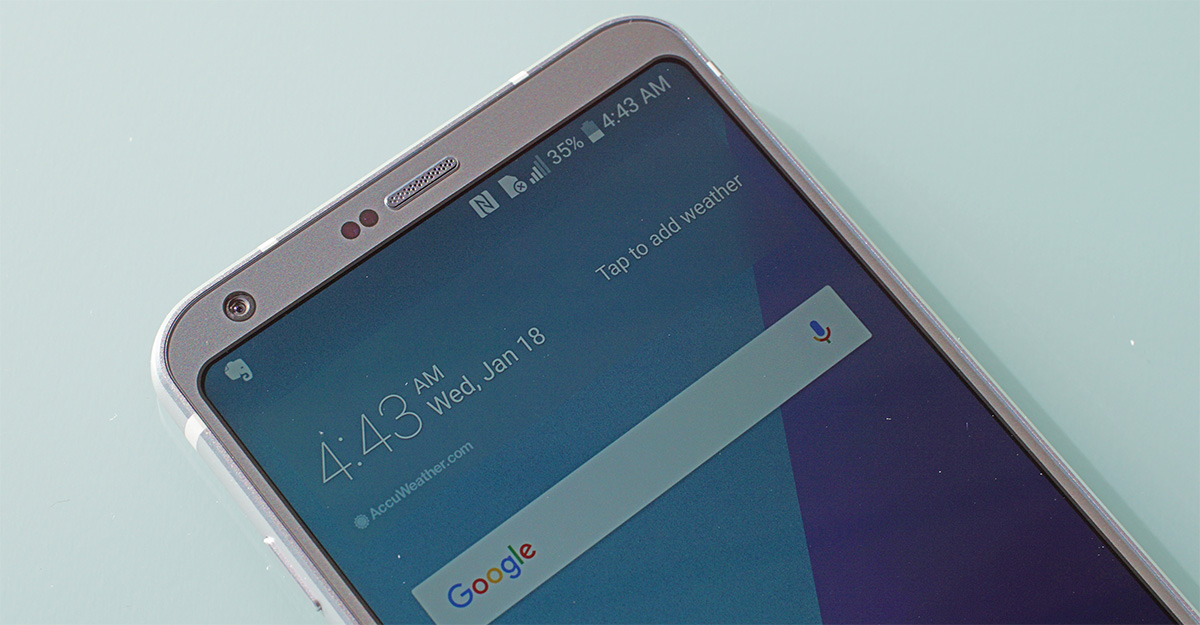 The G5's most innovative feature was its detachable chin module that granted access to the battery and allowed for quick battery swaps, a unique ability for a metal phone. This base module could also be replaced with additional accessories, making the G5 one of the few attempts at a modular smartphone. Unfortunately, the initial modules, the LG CAM Plus and LG Hi-Fi Plus, were uninspiring, and more compelling options failed to materialize. Swapping modules was also clunky because it required removing the battery and rebooting the phone, an issue not shared with Motorola's superior Moto Mod solution that was introduced alongside its new Moto Z family.
The G5's modular gamble failed to pay off, and its other features were not enough to justify its higher price, leading to poor sales that fell well below LG's expectations. Increasing competition from Chinese OEMs is also placing additional pressure on LG, which can ill afford another misstep. It's not too surprising then to see LG take a more conservative approach with the G6, focusing on correcting the previous model's shortcomings rather than adding radical new features to make it stand out.
LG G Series
LG G6
LG G5
SoC
Qualcomm Snapdragon 821
(MSM8996 Pro)

2x Kryo @ 2.34GHz
2x Kryo @ 2.19GHz
Adreno 530 @ 653MHz
Qualcomm Snapdragon 820
(MSM8996)

2x Kryo @ 2.15GHz
2x Kryo @ 1.59GHz
Adreno 530 @ 624MHz
Display
5.7-inch 2880x1440 (18:9) IPS LCD
5.3-inch 2560x1440 IPS LCD
Dimensions
148.9 x 71.9 x 7.9 mm
163 grams
149.4 x 73.9 x 7.7 mm
159 grams
RAM
4GB LPDDR4
4GB LPDDR4-3188
NAND
32GB / 64GB1 (UFS 2.0)
+ microSD
32GB (UFS 2.0)
+ microSD
Battery
3300 mAh (12.54 Wh)
non-replaceable
2800 mAh (10.78 Wh)
replaceable
Front Camera
5MP, f/2.2, wide-angle (100°), auto HDR, screen flash
8MP, 1/4" Toshiba T4KA3, 1.12µm pixels, f/2.0, HDR, screen flash
Rear Camera
Primary: 13MP, Sony IMX258 Exmor RS, 1.12µm pixels, f/1.8, PDAF, wide-angle (71°), OIS, auto HDR, dual-tone LED flash
Primary: 16MP, 1/2.6" Sony IMX234 Exmor RS, 1.12µm pixels, f/1.8, Laser AF, 3-axis OIS, HDR, color spectrum sensor, LED flash
Wide Angle: 13MP, Sony IMX258 Exmor RS, 1.12µm pixels, f/2.4, PDAF, wide-angle (125°), auto HDR, dual-tone LED flash
Wide Angle: 8MP, Sony IMX268 Exmor RS, 1.12µm pixels (assumed), f/2.4, wide-angle (135°), Laser AF, OIS, HDR, color spectrum sensor, LED flash
Modem
Qualcomm X12 (Integrated)
2G / 3G / 4G LTE (Category 12/13)
Qualcomm X12 (Integrated)
2G / 3G / 4G LTE (Category 12/13)
SIM Size
NanoSIM
NanoSIM
Wireless
802.11a/b/g/n/ac 2x2 MIMO, BT 4.2, NFC, IrLED, GPS/GNSS
Connectivity
USB 2.0 Type-C, 3.5mm headset
USB 2.0 Type-C, 3.5mm headset
Additional Features
QC 3.0 fast charging, wireless charging (WPC & PMA)2, IP68 environment protection, Hi-Fi Quad DAC3
QC 3.0 fast charging, modular design
Launch OS
Android 7.1 with LG UX 6.0
Android 6.0.1 with LG UX 5.0
1 - Only in select markets Korea, Hong Kong, Asia, India, CIS
2 - Only for US
3 - Not available in US, EU, South America, MEA
The G6's larger 3300 mAh battery should help alleviate one of our complaints about the G5: poor battery life. It's still a bit smaller than the batteries in the Pixel XL (3450 mAh) and Galaxy S7 edge (3600 mAh), both of which have slightly smaller 5.5-inch AMOLED displays, but the G6 should last noticeably longer than the G5. With the Galaxy Note7 recall still fresh in people's minds, LG made the point that the separator between the anode and cathode in the G6's battery is 15.5µm thick versus 8.5µm for the Note7.
The G6 also gets a complete redesign. LG has abandoned the G5's modularity, simplifying the phone's construction. This means that the G6's battery is sealed inside and no longer removable too. The chassis is still aluminum, with internal bracing to increase rigidity, but there's a piece of glass covering the plastic back with a brushed aluminum finish below. Its edges are slightly beveled where they meet the metal's polished chamfer, improving in-hand feel.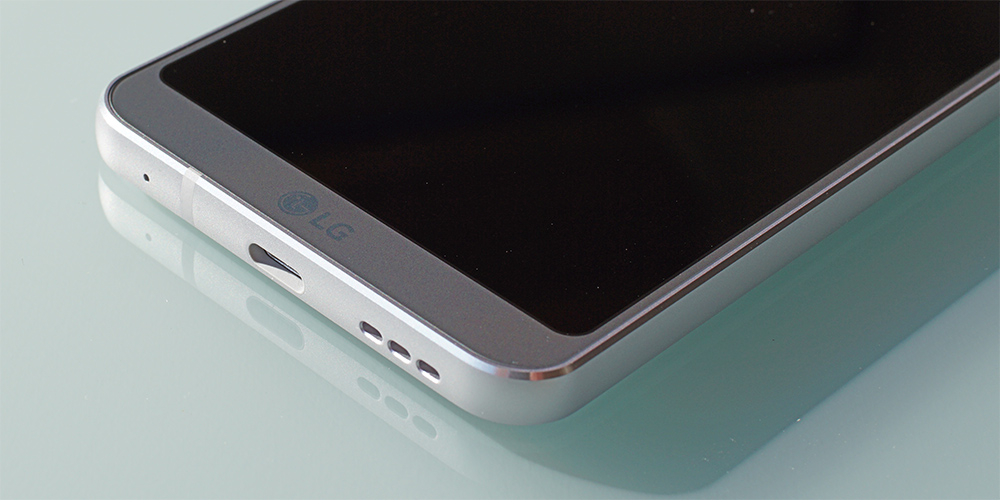 The dual rear camera module, which looks like a pair of eyes staring you, now sits flush with the back, just above the fingerprint sensor that also works as a power button. The G6 still comes with a 3.5mm headphone jack on the top edge, and the single, downward-firing speaker sits to one side of the USB Type-C port on the bottom.
The interesting change is around front, however. Overall display size increases to 5.7-inches, but it only gets taller and not wider, resulting in an 18:9 aspect ratio (instead of the more common 16:9) that increases screen area while keeping the phone narrow enough to easily hold in one hand. LG has modified its built-in apps to take advantage of the extra screen height, including the camera, which has room to show a strip of image thumbnails next to the camera controls. The corners of the IPS LCD are also rounded instead of sharp angles, which improves screen durability by reducing stress concentrations, according to LG's testing, and matches the rounded corners of the frame and the rounded graphical elements in LG UX 6.0.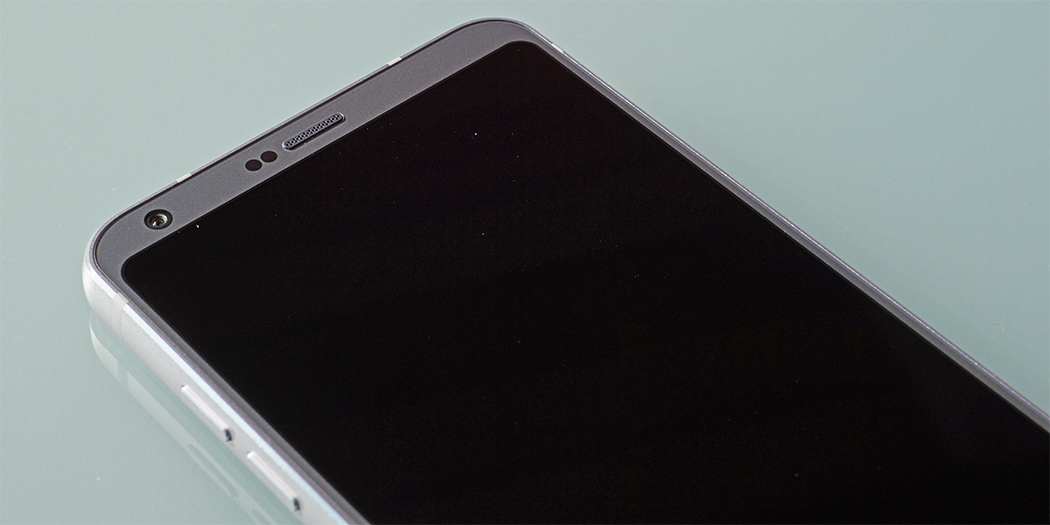 Companies continue to chisel away at the bezels surrounding the display. While the G6 falls a little short of Xiaomi's nearly all-screen Mi MIX, it still achieves a screen-to-body ratio over 80%. With the smaller bezels, the G6 is actually shorter and narrower than the G5 and a little shorter than the Galaxy S7 edge even though it has a smaller 5.5-inch display.
Unlike the outside, the hardware inside the G6 remains relatively the same. The Snapdragon 820 SoC gets replaced by the Snapdragon 821, which bumps peak frequencies to 2.19GHz and 2.34GHz for the two lower-power and two higher-performance Kryo CPU cores, respectively. The Adreno 530 GPU also gets a higher operating point. The real-world difference between the Snapdragon 820 and 821 is small, however. An internal heat pipe covers the SoC and redistributes heat along the phone's left edge, which should help reduce thermal throttling.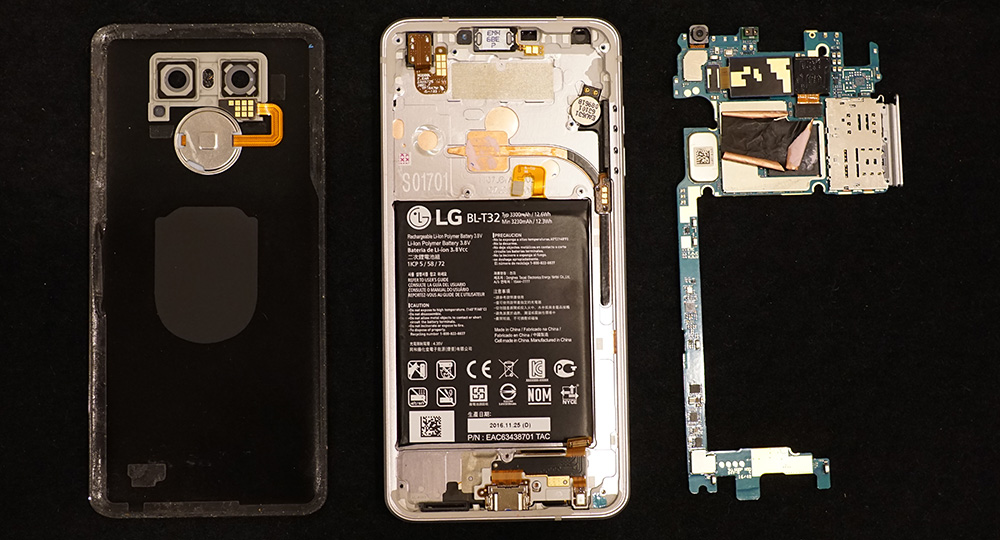 After announcing the Snapdragon 835 last fall and releasing more details at CES, most people assumed the G6 would receive Qualcomm's latest SoC. Initial supply seems to be limited, though, for the first product to use Samsung's new 10nm process, putting LG and other OEMs launching flagship phones in Q1 2017 in a difficult position: either delay their products or move forward with last year's Snapdragon. Going with the 821 does give LG a time-to-market advantage over Samsung's Galaxy S8, which is launching later than usual.
LG is sticking with 4GB of LPDDR4 RAM for the G6 while other flagships are moving to 6GB or more, although it should still be enough for heavy multitasking. Internal storage is stuck at 32GB, although select Eastern markets will see a 64GB option available. Additional storage can be added with a microSD card.
Last year LG gave the G5 a dual rear camera. Unlike systems from Huawei, which combine the output of RGB and black and white sensors to improve image quality, the G5's cameras worked independently, providing a pseudo-zoom feature that switched between a short focal length lens and an even shorter wide-angle lens.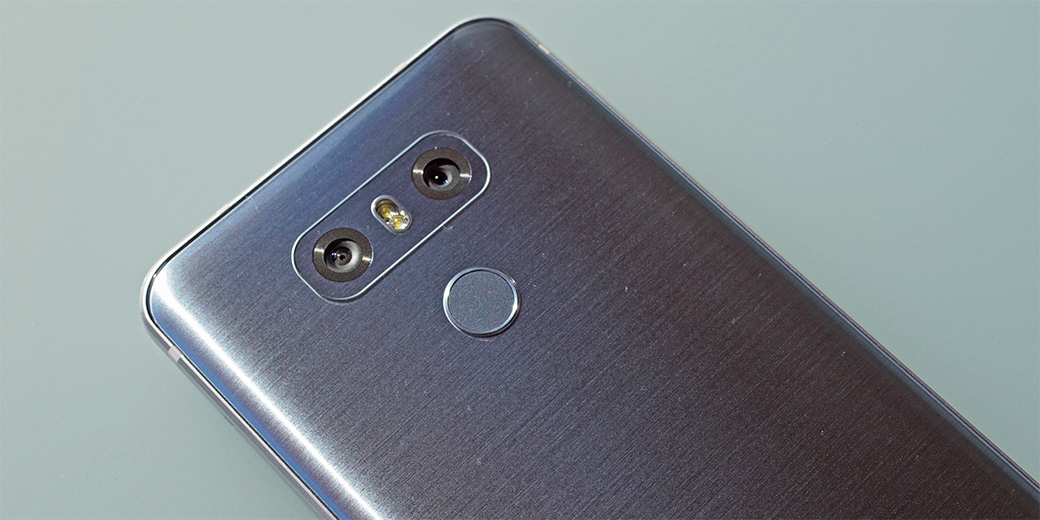 The G6 uses a similar dual rear camera setup, except both use the same 13MP Sony IMX258 sensors. This should improve quality for the wide-angle camera that used an 8MP sensor before, fully half the resolution as the G5's main camera. The balanced sensors and Qualcomm's Optical Zoom feature provided by the Snapdragon SoC eliminate the stutter or pause that would occur when switching between the two cameras. This transition is now perfectly smooth on the G6 other than a slight shift in perspective caused by the different focal lengths.
The primary rear camera has OIS (not wide-angle camera), but the G5's hybrid autofocus system, which combined contrast AF, laser AF, and phase detect AF (PDAF), is gone. The G6 still supports contrast and PDAF, but this is definitely a step backwards when even mid-range devices are adopting hybrid autofocus systems that combine three or four different AF methods. The separate color spectrum sensor, which helped set white balance, is also gone. These omissions seem like a cost-cutting move to make room for some new features.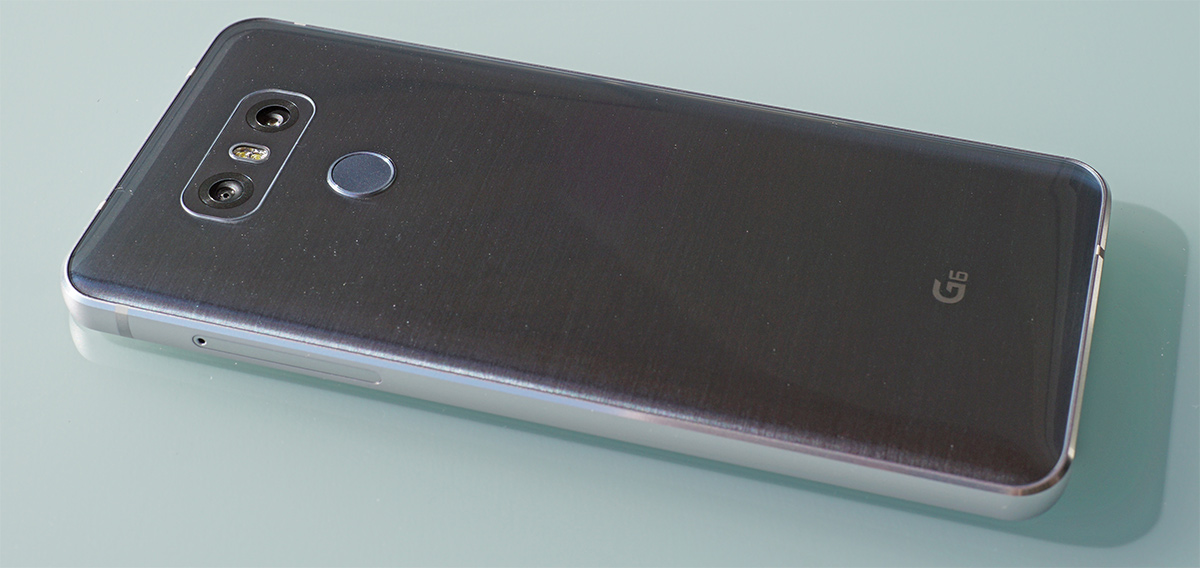 One new trick for the G6 is wireless charging. It supports both the WPC and PMA standards, but this feature is only available in the US. LG says its market research revealed that wireless charging is a lower priority in other countries, and it did not want to increase cost by including features people would not use. The G6 still includes Qualcomm's Quick Charge 3.0 fast-charging technology, though.
The G6 also adds IP68 dust and water resistance. This rating means it's completely sealed against dust and can remain immersed in 1.5m of water for up to 30 minutes. Select markets will also get LG's Hi-Fi Quad DAC setup for improved audio quality when using headphones. Unfortunately, customers in the US, EU, South America, and MEA countries will not get the Quad DAC and will have to make do with sound more typical of a smartphone.
The G6 comes in three different colors—black, silver, and white—and will be available for sale in South Korea within days. LG has not disclosed pricing or availability in other countries yet.