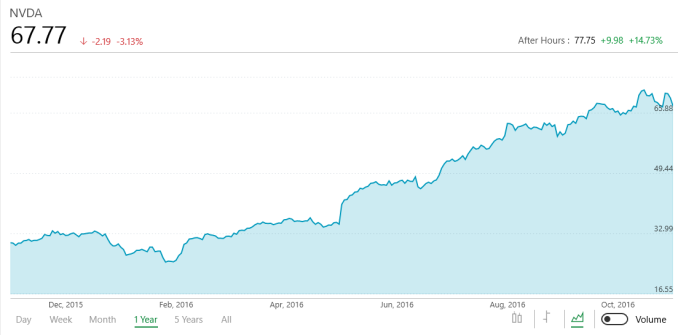 Today NVIDIA announced their fiscal earnings for the third quarter of their 2017 fiscal year (and yes, that's not a typo). NVIDIA has cracked the $2 billion mark for quarterly revenue, with earnings of $2.004 billion this quarter. This is up an impressive 54% compared to the same quarter last year. This record revenue follows a previous record for Q2, and NVIDIA is forecasting revenue for next quarter of $2.1 billion, plus or minus two percent. With this rate of growth, they will easily surpass their best yearly earnings ever which was $5.01 billion announced in January 2016. They are on pace for close to $7 billion for the year, which is a dramatic increase at a time when the core PC market is in decline. Gross margin for this quarter was up 2.7% year-over-year to 59.0%, and operating income was up 161% to $639 million. Net income for the quarter was $542 million, up 120% over last year, and earnings per share came in at $0.83, up 89% year-over-year.
NVIDIA Q3 2017 Financial Results (GAAP)
Q3'2017
Q2'2017
Q3'2016
Q/Q
Y/Y
Revenue (in millions USD)
$2004
$1428
$1305
+40.3%
+53.6%
Gross Margin
59.0%
57.9%
56.3%
+1.1%
+2.7%
Operating Income (in millions USD)
$639
$317
$245
+102%
+161%
Net Income
$542
$261
$246
+108%
+120%
EPS
$0.83
$0.41
$0.44
+102%
+89%
NVIDIA has done a decent job diversifying itself, but it's core market is still consumer GPU sales. With the launch of Pascal, NVIDIA has maintained a very healthy performance lead, and that has certainly translated into sales. Gaming related sales for this quarter came in at a staggering $1.244 billion, up 63.5% compared to Q3 2016. NVIDIA gained more revenue in the gaming segment this quarter than all of AMD's Computing and Graphics segment earned in their last quarter. Clearly there was some pent-up demand for the FinFET based GPUs after being on 28 nm for so long. Professional Visualization had a good quarter as well, with revenues of $207 million. That is a 9% increase year-over-year, although they did have a 3% drop in revenue compared to their previous quarter.
With the rise in GPU compute in the datacenter, NVIDIA has aggressively pursued this market, and it is starting to make some real inroads here as well. For Q3 2017, NVIDIA had revenue of $240 million in their Datacenter group, which is up from $82 million a year ago, or a 193% increase in revenue year-over-year. Datacenter revenue is now the second largest segment for NVIDIA, and only a year ago it was half of the professional GPU revenue.
Automotive continues to be a solid performer for NVIDIA too, and they've released quite a few SoCs specifically for this market. NVIDIA announced that it has an agreement to supply Tesla Motors the DRIVE PX 2 platform to power a new AutoPilot system in the Model S, X, and upcoming 3. With a maximum TDP of 250 Watts, DRIVE PX 2 casts off the mobile SoC constraints of the previous design, despite still having NVIDIA's Denver CPU paired with Cortex-A57. With the continued investment in this sector, NVIDIA has seen strong growth here, and revenue for this quarter was $127 million, which is up from $79 million a year ago, or a gain of 60%.
Finally, OEM and IP had earnings of $186 million for the quarter, which is down slightly from the $193 million they earned a year ago, but with the recent announcement that they will power the Nintendo Switch, perhaps they will see some growth here in the future.
NVIDIA Quarterly Revenue Comparison (GAAP)
In millions
Q3'2017
Q2'2017
Q3'2016
Q/Q
Y/Y
Gaming
$1244
$781
$761
+59.3%
+63.5%
Professional Visualization
$207
$214
$190
-3.3%
+8.9%
Datacenter
$240
$151
$82
+58.9%
+192.7%
Automotive
$127
$119
$79
+6.7%
+60.8%
OEM & IP
$186
$163
$193
+14.1%
-3.6%
This entire year has been very good for NVIDIA, but this quarter in particular has seen some very strong growth. The best news for NVIDIA and their investors is that they are not just seeing growth in their diversified markets, although they are doing very well there, but the growth in their core market was incredibly strong as well.
Source: NVIDIA Investor Relations