Qualcomm
After a 2021/2022 product cycle that was a bit more interesting than Qualcomm perhaps would have liked, 2023 has been a far more straightforward year for the prolific SoC and cellular modem vendor. After releasing the first of their Gen 2 family of parts earlier this year with the flagship-class Snapdragon 8 Gen 2, the company is preparing to iterate through the next step of its product stack with the Snapdragon 7+ Gen 2. Aimed at what's become Qualcomm's traditional "premium" market segment, which focuses on flagship-level features with more modest performance and costs, for the Snapdragon 7+ Gen 2, Qualcomm is aiming to deliver a sizable performance boost to the platform.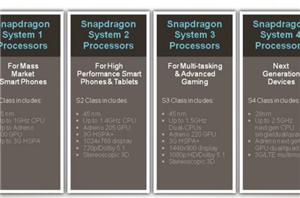 All microprocessor companies struggle with the same basic marketing problem: how do you explain to the average consumer why one part is faster than another without saying cache, GHz...
25
by Anand Lal Shimpi on 8/3/2011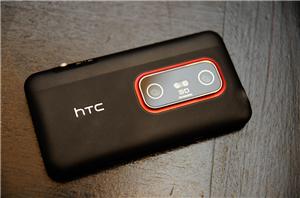 Yesterday evening I met up with HTC, who let me take a quick look at a number of upcoming unreleased phones, including the HTC Sensation 4G and HTC EVO...
55
by Brian Klug on 6/3/2011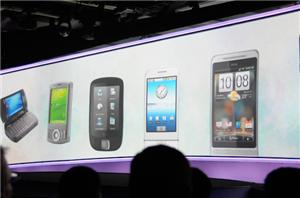 Today is the second and last day of Qualcomm's Uplinq conference in San Diego California, but we've still got a bunch in store. This morning, we sat down at...
32
by Brian Klug on 6/2/2011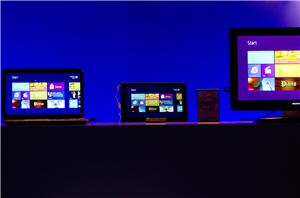 I'm in the audience of Microsoft's Partner Preview for Computex 2011, basically an event to give a sneak peak of the future of Windows to press and MS partners...
32
by Anand Lal Shimpi on 6/1/2011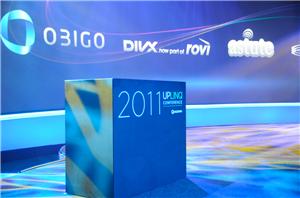 Today marks the first day of our coverage of Qualcomm's annual Uplinq conference in San Diego, California. It's our first time coming to Uplinq, a conference whose roots trace...
4
by Brian Klug on 6/1/2011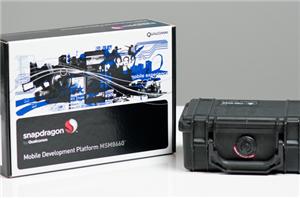 Last month Brian put together a performance preview of Qualcomm's first dual-core SoC: the 1.5GHz MSM8660. The article was mostly focused on GPU performance as the new Adreno 220...
813
by Anand Lal Shimpi on 4/27/2011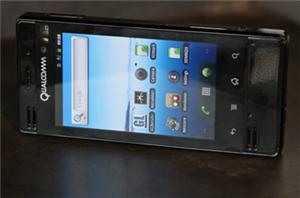 At both CES and MWC, Qualcomm teased us with their dual core Snapdragon SoC, the MSM8x60. First we saw it from afar, then they let us run tests on...
70
by Brian Klug on 3/30/2011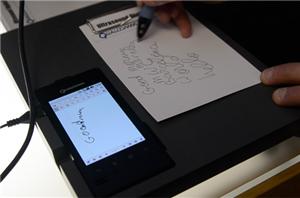 We've been talking about higher performance SoCs for quite a while now, but the number of applications for these things beyond making your UI faster is fairly limited today...
12
by Anand Lal Shimpi on 2/14/2011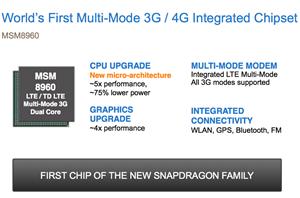 Last year Qualcomm told us about the MSM8960, its next-generation Snapdragon SoC based on a brand new microprocessor architecture. Today Qualcomm announced some more details on the architecture behind...
15
by Anand Lal Shimpi on 2/14/2011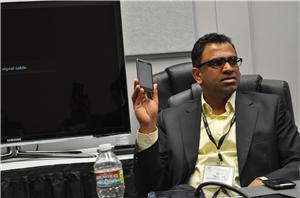 Qualcomm used CES to showcase their new dual-core Snapdragon parts, and they invited a group of bloggers to get their thoughts on the new chips. Qualcomm gave us a...
37
by Vivek Gowri on 1/12/2011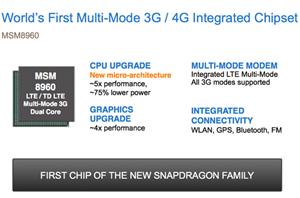 Earlier today Qualcomm briefed analysts on its Snapdragon SoC roadmap. The current Snapdragon is available in both 65nm and 45nm versions integrating a single Scorpion CPU core running at...
48
by Anand Lal Shimpi on 11/17/2010