Final Words
At its Silvermont disclosure, Intel promised performance better than any other ARM based core in the market today. Looking at our Android results, Intel appears to have delivered on that claim. Whether we're talking about Cortex A15 in NVIDIA's Shield or Qualcomm's Krait 400, Silvermont is quicker. It seems safe to say that Intel will have the fastest CPU performance out of any Android tablet platform once Bay Trail ships later this year.
The power consumption, at least on the CPU side, also looks very good. From our SoC measurements it looks like Bay Trail's power consumption under heavy CPU load ranges from 1W - 2.5W, putting it on par with other mobile SoCs that we've done power measurements on.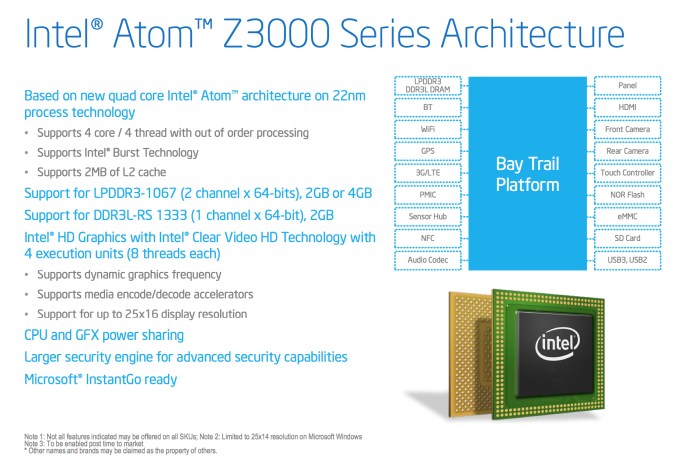 On the GPU side, Intel's HD Graphics does reasonably well in its first showing in an ultra mobile SoC. Bay Trail appears to live in a weird world between the old Intel that didn't care about graphics and the new Intel that has effectively become a GPU company. Intel's HD graphics in Bay Trail appear to be similar in performance to the PowerVR SGX 554MP4 in the iPad 4. It's a huge step forward compared to Clover Trail, but clearly not a leadership play, which is disappointing.
The big unknowns are things like video decode power efficiency, perf and quality of their ISP and idle power efficiency vs. Qualcomm.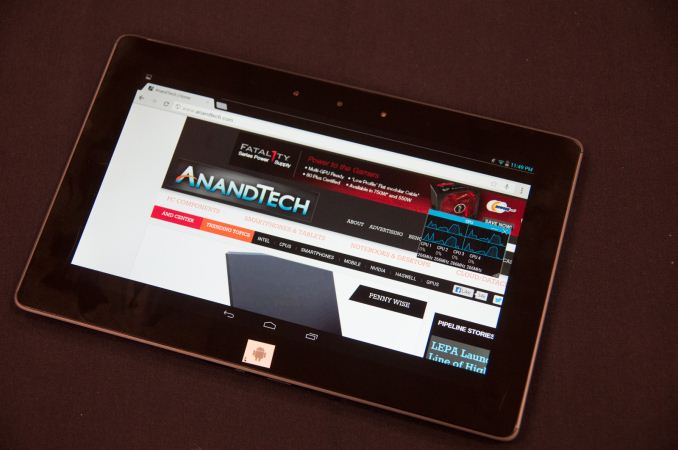 Bay Trail looks like a good starting point for Intel in mobile, and the performance of Silvermont makes me excited for Merrifield in phones next year. What Intel needs to do going forward is simply continue to iterate and execute for the next few generations after Bay Trail and it will have a real chance at success in mobile.
My biggest concern is about the design wins we see based around Bay Trail. Although Intel is finally in a spot where it can be in devices on the market, none of those devices thus far have been any good. Bay Trail is attractive enough to garner more design wins for certain, the question is whether or not the quality of those wins will improve as well. In the tablet market there's the iPad and the Nexus lines that are really the most interesting, and I don't expect Bay Trail to be in either. Whether or not the quality of the rest goes up this generation and we find a Bay Trail in one of those devices remains to be seen.