Primary Test Results
These cooling roundups produce a tremendous amount of raw data, so it pays to look at the results in specific context. The three Thermaltake Water 3.0 coolers can be used to get a general idea of how Asetek's more traditional CLCs perform as well, and their maximum cooling capacity can be ascertained when we take a look at the absolute performance results later on.
Initially we'll look at what I consider the most "balanced" results for each cooler we've tested so far; these results find the optimal balance between cooling performance and acoustics. Unfortunately, because the two 120mm Water 3.0 units use the motherboard's PWM control, fan speed gets ramped up under load and you'll see they become two of the loudest kits we've tested.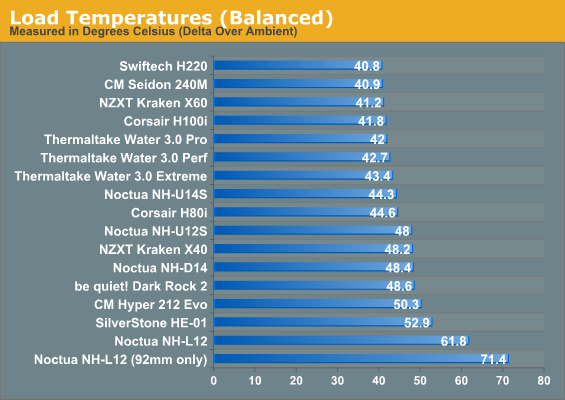 First, thermals. It may seem unusual that the Water 3.0 Extreme's 240mm radiator takes last place behind its siblings, but when you look at the noise levels it produces as a result of its more sophisticated fan control, you'll see why. The results overall are essentially competitive, though; between the CoolIT-based Corsair H80i and H100i and the Asetek-based Thermaltakes you'd be hard-pressed to find too much of a difference in overall thermal performance, or at least performance potential. We can narrow that down by looking at the CLC results specifically.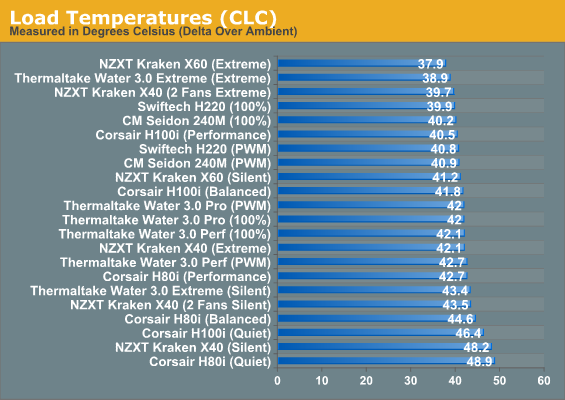 Cull the bottom three "quiet" results from Corsair and NZXT and you essentially look at only a roughly seven degree delta between the least powerful and most powerful closed loop coolers. In fact, going from a 240mm to a 280mm Asetek doesn't seem to yield much of a performance advantage. When we bring noise into the equation, though, the results separate a bit.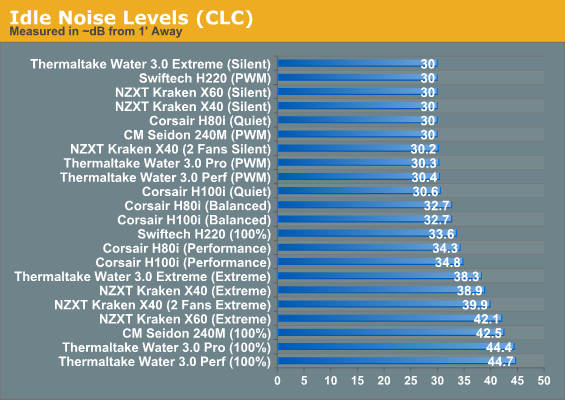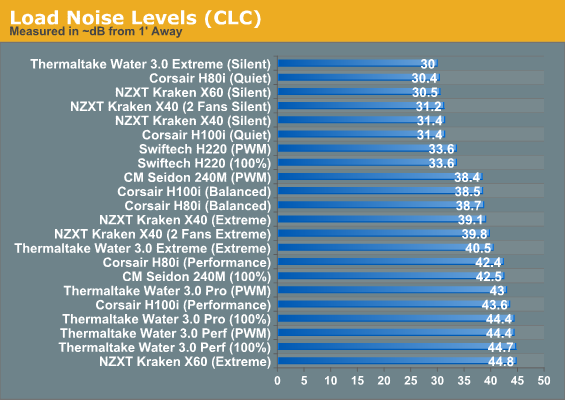 Load noise on the 120mm Water 3.0 entrants is frankly pretty nasty. The 240mm Water 3.0 Extreme on its Silent setting acquits itself reasonably well, but its performance is near the bottom of the pack. To me, this is where the closed loop coolers in general lose some of their appeal. Swiftech's H220 does a stellar job with its copper radiator and powerful pump, and it's really the odd man out due to its comparatively low load noise.