Corsair TX550M Overview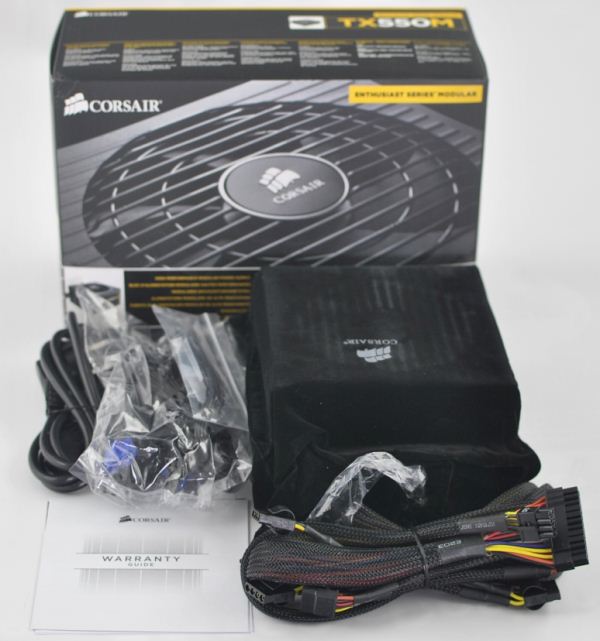 In the package we find a large number of modular cables in a plastic packaging, an accompanying document with warranty agreements, one Corsair sticker (for your case), some cable ties, four screws, and one power cord. In short, Corsair provides plenty of extras to keep the customers satisfied.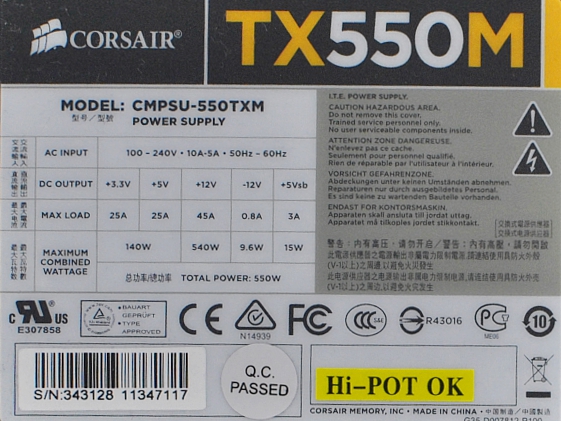 Corsair believes in powerful single rails. On +12V this PSU can deliver nearly the full power since step-down-converters are included for the smaller rails. +3.3V as well as +5V are rated at 140W and/or 25A maximum load. At 3A, 5VSB is relatively powerful as well.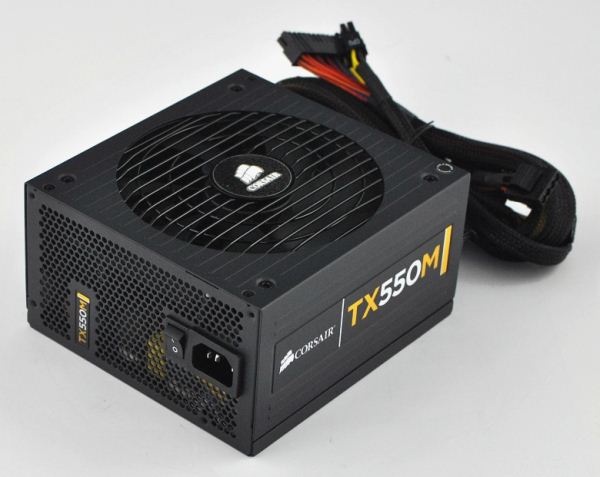 The PSU has a black finish and honeycombed ventilation holes. There is no typical fan grill but a solution be quiet! (Listan) used before. At 160mm, the case is moderately long. As usual these days, there is a power switch next to the mains plug. Modular cables can be mounted on the connector panel at the rear side, and as usual Corsair's overall build quality is very good.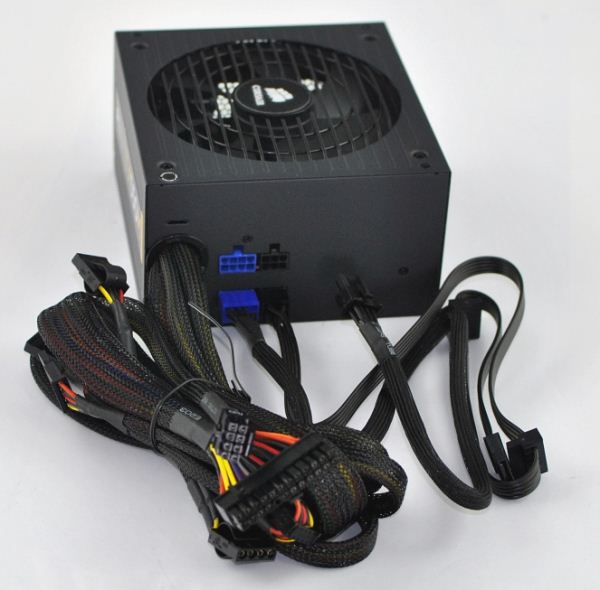 Cables and Connectors

Connector type (length)

Main
1x 24-pin (60cm) fixed
ATX12V/EPS12V
1x 4+4-pin (60cm) fixed
PCIe
1x 6/8-pin (60cm) modular
1x 6/8-pin (60cm) modular
Peripheral
3x SATA (ca. 40, 55, 70cm) fixed
3x SATA (ca. 40, 55, 70cm) modular
3x Molex (ca. 40, 55, 70cm) fixed
3x Molex (ca. 40, 55, 70cm) modular
2x FDD adapter (ca. 10cm) modular
The 24-pin cable is relatively long with 60cm. The long CPU cable is very good as well, particularly for cases where the PSU is mounted on the bottom. The 24-pin, the CPU, and two peripheral cables are fixed. Note that there are FDD adapters. Corsair included the adapters in the packaging, though, "just in case". Moreover all removable cables consist of black wires only. Some of them are flat as well.