Testing Results, Maximum Fan Speed (12 Volts)
Starting things off, let's take a look at the NH-U12A performance with the fans at their full speed (12 V).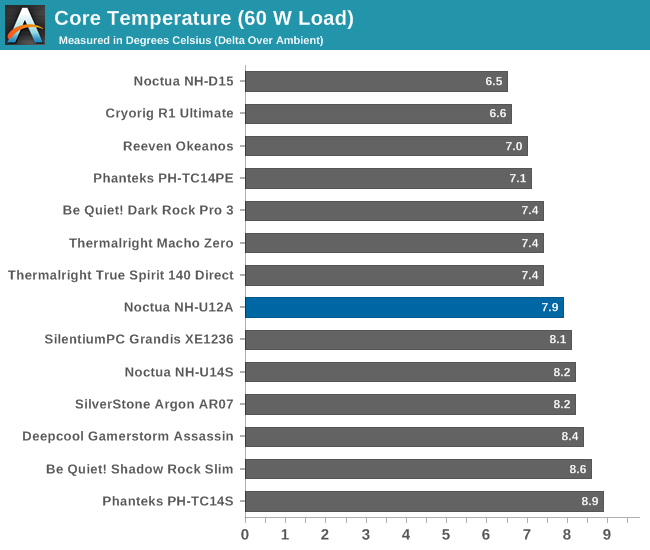 Core Temperature, Constant Thermal Load (Max Fan Speed)
Noctua claims that the NH-U12A can compete directly against 140 mm coolers. Although it is not really quite as good as advanced 140 mm coolers – at least when compared to the likes of the NH-U14S and the Phanteks PH-TC14PE – the thermal performance of the NH-U12A definitely is excellent for a 120 mm cooler. Which, in turn, is good enough to just touch the performance of simpler or silence-oriented 140 mm cooler designs, such as the Thermalright True Spirit.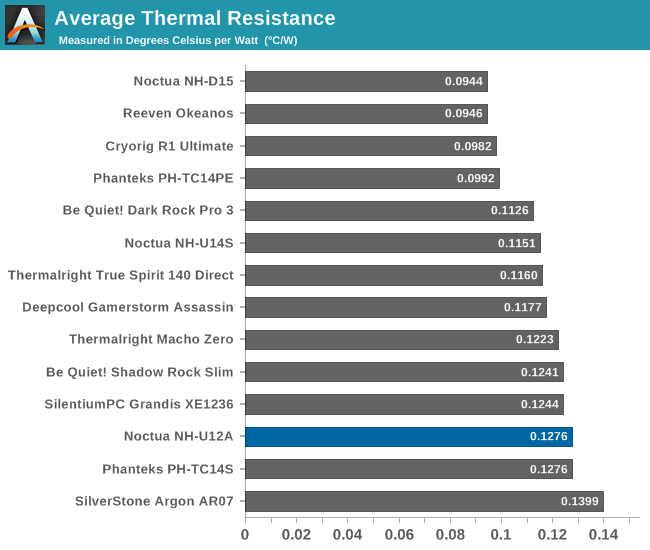 The Noctua NH-U12A performs exceptionally well at the lower end of the load spectrum, outperforming even several 140 mm coolers at loads lower than 80 Watts. The gap widens as the load increases but the thermal performance of the NH-U12A always remains respectable. It is noteworthy to mention that the high thermal performance is complemented by respectable acoustics performance; even with the cooler's fans spinning at their maximum speed, the NH-U12A is audible but not too loud.