AnandTech Storage Bench - Heavy
Our Heavy storage benchmark is proportionally more write-heavy than The Destroyer, but much shorter overall. The total writes in the Heavy test aren't enough to fill the drive, so performance never drops down to steady state. This test is far more representative of a power user's day to day usage, and is heavily influenced by the drive's peak performance. The Heavy workload test details can be found here. This test is run twice, once on a freshly erased drive and once after filling the drive with sequential writes.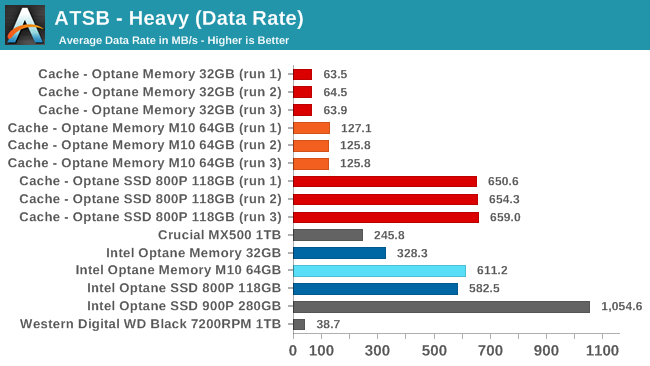 The 118GB Optane SSD 800P is the only cache module large enough to handle the entirety of the Heavy test, with a data rate that is comparable to running the test on the SSD as a standalone drive. The smaller Optane Memory drives do offer significant performance increases over the hard drive, but not enough to bring the average data rate up to the level of a good SATA SSD.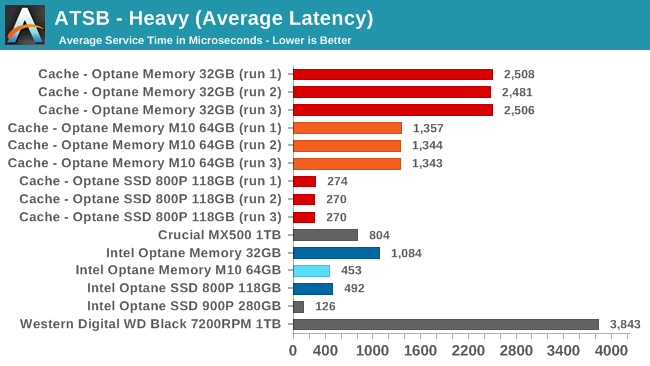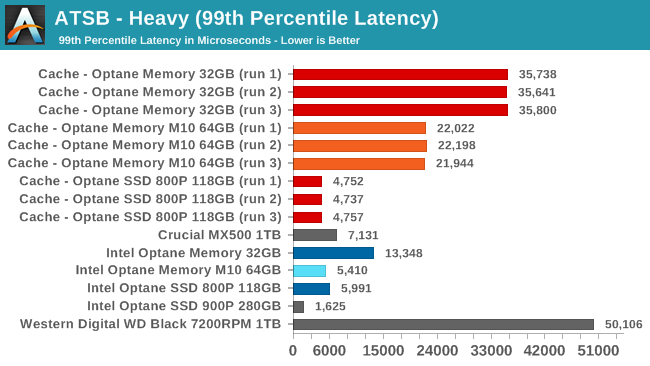 The 64GB Optane Memory M10 offers similar latency to the 118GB Optane SSD 800P when both are treated as standalone drives. In a caching setup the cache misses have a big impact on average latency and a bigger impact on 99th percentile latency, though even the 32GB cache still outperforms the bare hard drive on both metrics.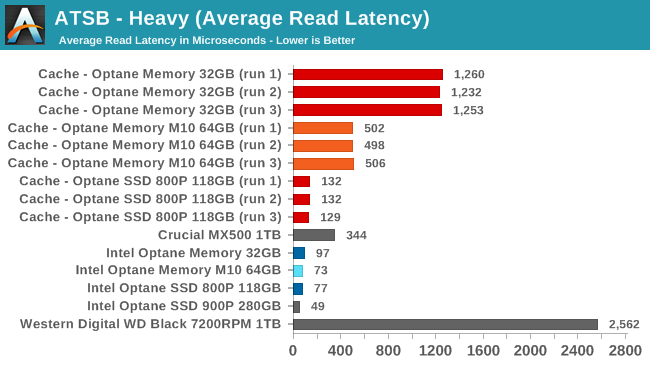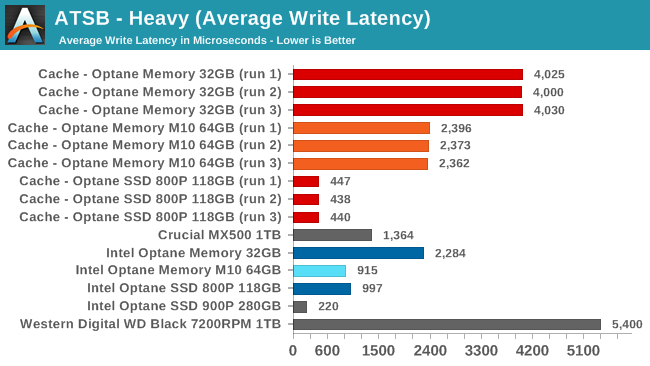 The average read latency scores show a huge disparity between standalone Optane SSDs and the hard drive. The 118GB cache performs almost as well as the standalone Optane drives while the 64GB cache averages a bit worse than the Crucial MX500 SATA SSD and the 32GB cache averages about half the latency of the bare hard drive.
On the write side, the Optane M.2 modules don't perform anywhere near as well as the Optane SSD 900P, and the 32GB module has worse average write latency than the Crucial MX500. In caching configurations, the 118GB Optane SSD 800P has about twice the average write latency of the 900P while the smaller cache configurations are worse off than the SATA SSD.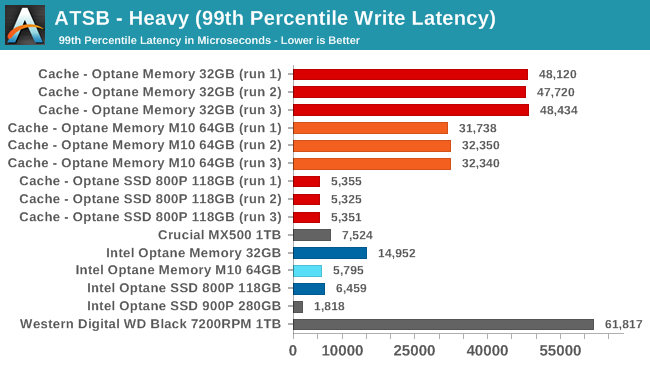 The 99th percentile read and write latency scores rank about the same as the average latencies, but the impact of an undersized cache is much larger here. With 99th percentile read and write latencies in the tens of milliseconds, the 32GB and 64GB caches won't save you from noticeable stuttering.