AnandTech Storage Bench - Heavy
Our Heavy storage benchmark is proportionally more write-heavy than The Destroyer, but much shorter overall. The total writes in the Heavy test aren't enough to fill the drive, so performance never drops down to steady state. This test is far more representative of a power user's day to day usage, and is heavily influenced by the drive's peak performance. The Heavy workload test details can be found here. This test is run twice, once on a freshly erased drive and once after filling the drive with sequential writes.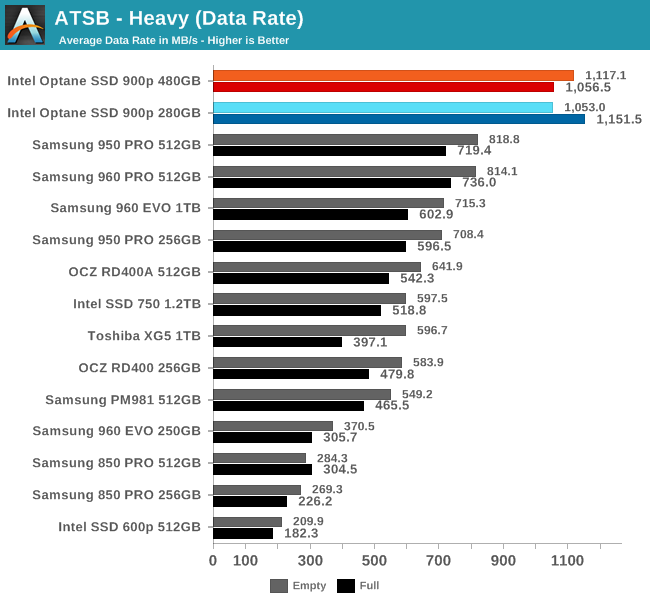 The Optane SSD 900p in either capacity delivers a much higher average data rate on the Heavy test than any flash-based SSD. As with the original review, the 280GB model is a bit faster when the drive is pre-filled than when the test is run on a freshly-erased drive; the opposite is almost always true of flash-based SSDs. The 480GB's results look more normal and fall in the same range as the 280GB's scores.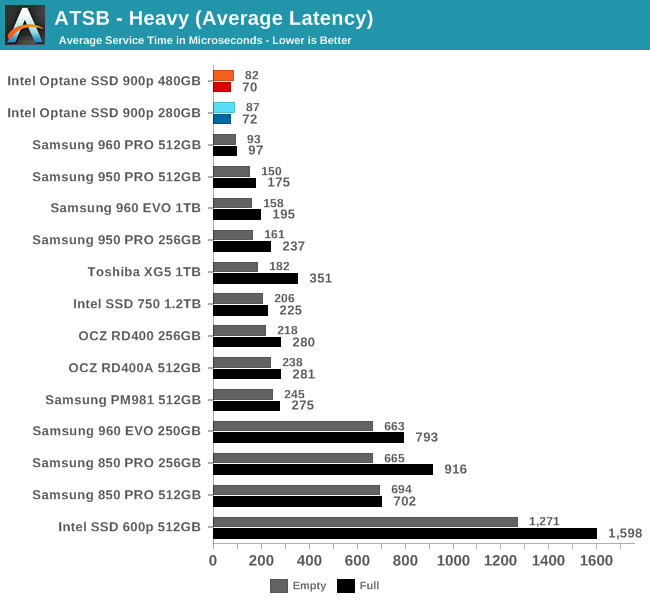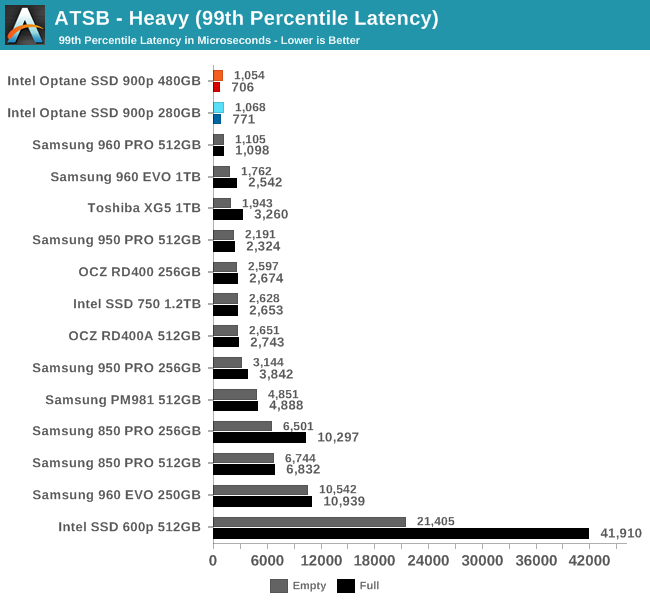 The average and 99th percentile latency scores of both Optane SSD capacities are slightly ahead of the fastest flash-based SSDs. Both models also show lower latency when the drive is filled than when it is freshly erased.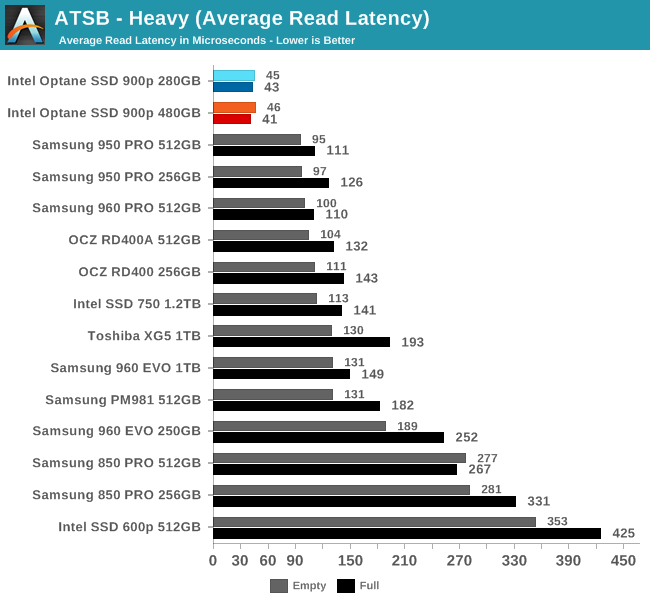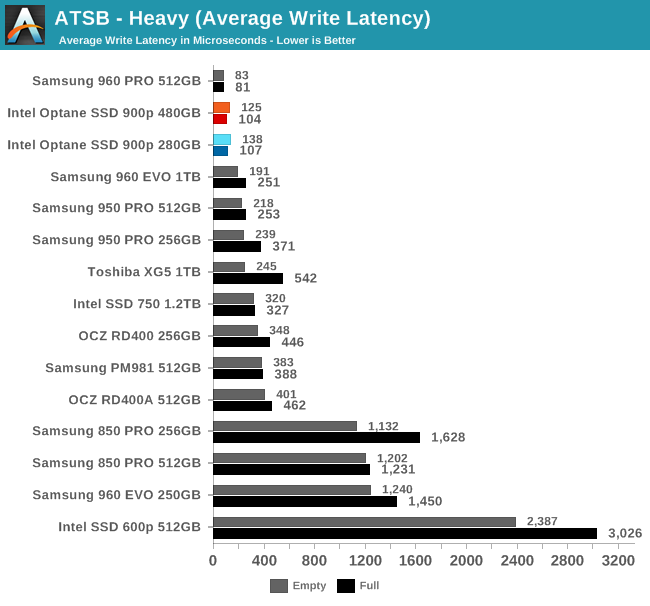 The average read latency of the Optane SSD 900p on the Heavy test is about the same for both capacities, and about half that of any flash-based SSD. The average write latencies are a bit worse than the Samsung 960 PRO but still clearly better than the 960 EVO or anything else.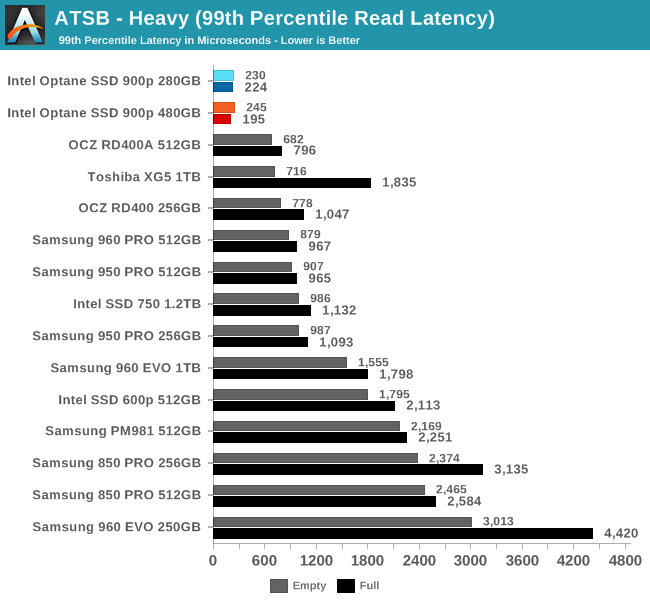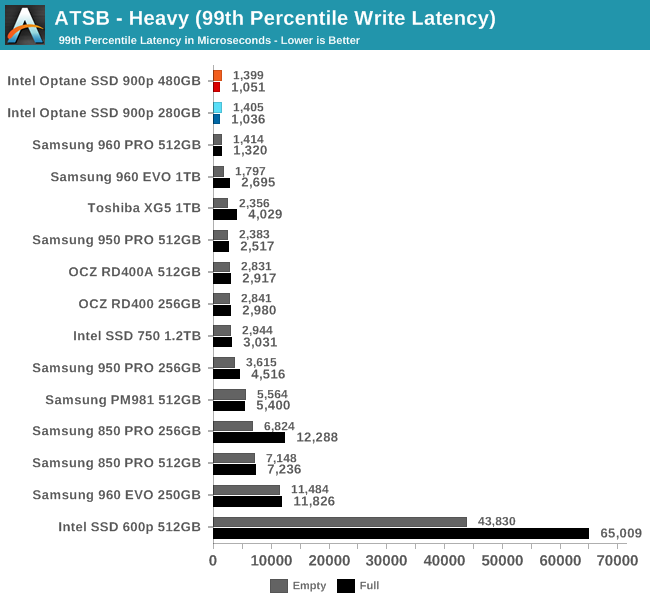 The 99th percentile read latency scores for the Optane SSDs are a fraction of the latency of any other drive, and both capacities of the 900p score about the same. The 99th percentile write latency is barely faster than the Samsung 960 PRO.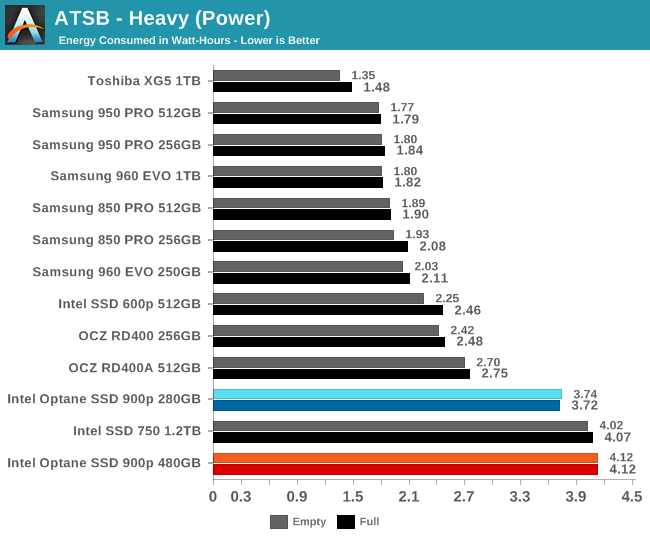 The power consumption of the Optane SSDs fits their heritage as derivatives of an enterprise drive. The only other consumer SSD this power hungry is the Intel SSD 750, another enterprise derivative. Even the M.2 PCIe SSDs with relatively poor power management and low performance use much less energy over the course of the test.
The 480GB 900p uses about 10% more energy than the 280GB model while performing about the same.