System Performance
Powering the Chuwi LapBook 12.3 is Intel's Goldmont CPU architecture, meaning this is an Atom based PC. The benefit here is that the system is completely fanless, thanks to the only 6-Watt TDP of the CPU/GPU, but the downside is that performance is not in the same league as a Core based CPU. We went over Apollo Lake in detail on the LapBook 14.1, so check that out if you want a bit more background on this platform.
Although there are Goldmont Celerons available with dual-core, Chuwi has kept the quad-core version in the lineup for the LapBook 12.3, with the Celeron N3450. This has a maximum boost frequency of 2.2 GHz, and Gen 9 graphics with 12 EUs. Chuwi has added even more dual-channel RAM to this configuration though, bumping the total to a very respectable 6 GB. Overall, it would be expected to perform similarily to the LapBook 14.1, but with a bit more RAM to help out on multi-tasking and web browsing.
The LapBook 12.3 was run through our standard test suite for laptop performance, and it you'd like to compare it to any other system we've tested that's not listed here, please check out our online Bench database.
PCMark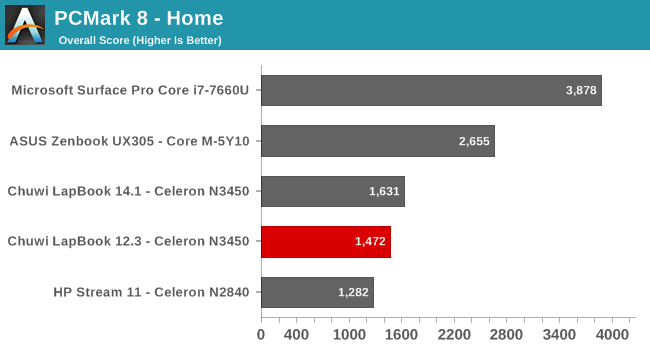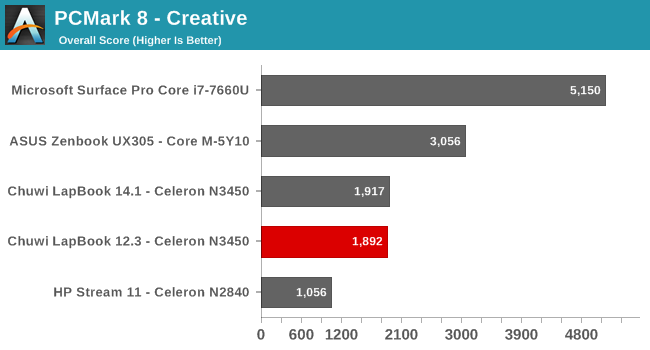 The PCMark scores are very similar, but a bit lower than the LapBook 14.1.
Cinebench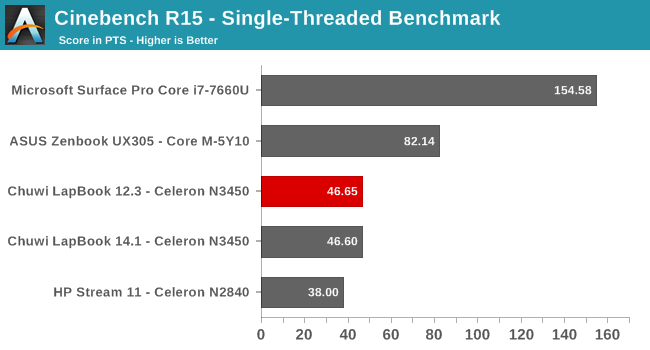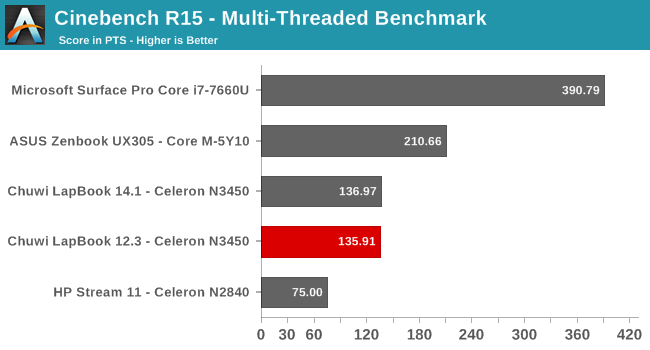 Once again, this is very much in-line with the LapBook 14.1, as expected.
x264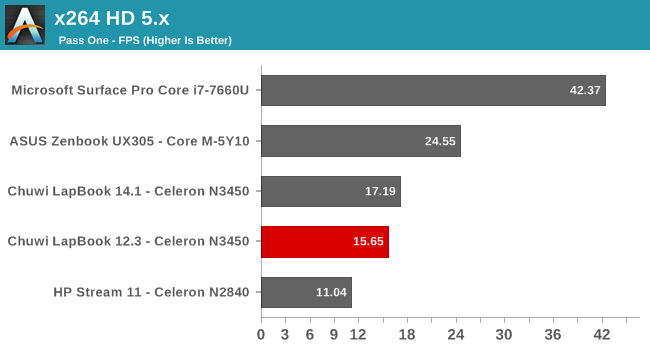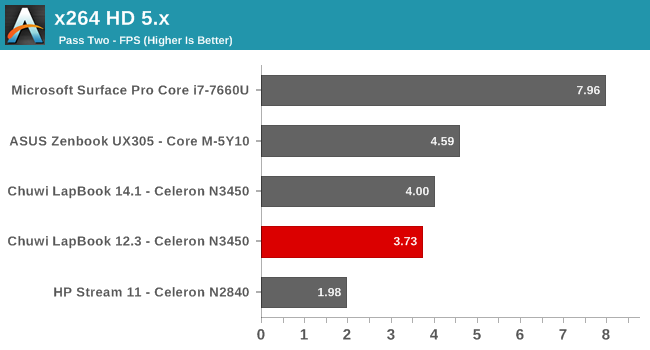 This is a bit lower than the LapBook 14.1 results, but still within expectations.
Web Results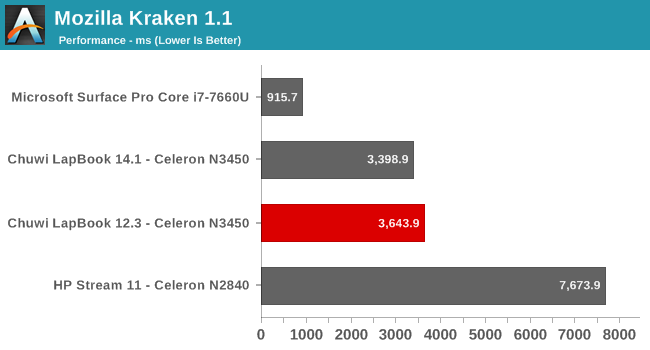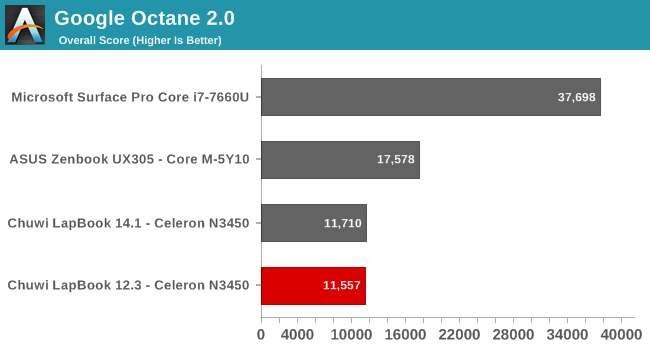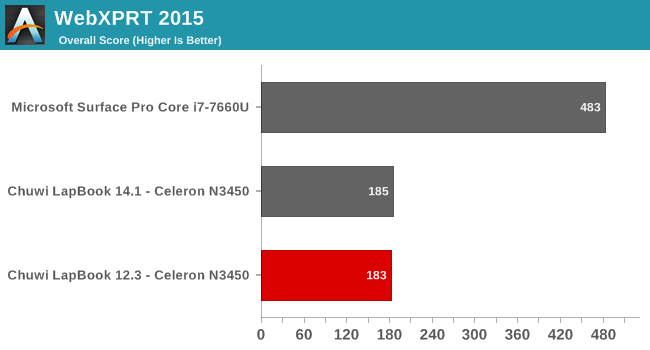 The web is clearly one of the most important aspects of any testing, but web browsing performance is also impacted by the browser's ECMAscript engine. For our testing, since Windows 10 was launched, we've moved to Microsoft's Edge browser, since it is now in the same ballpark as the other browsers for performance.
CPU Conclusions
Overall, the LapBook 12.3 performed more or less the same as the LapBook 14.1, which is to be expected since they both use the same CPU under the covers. The increased RAM doesn't affect overall performance much, since the tests are not memory limited, but if you're going to have more tabs open in your browser, or more apps open overall, the extra RAM will be a bigger impact then. As we said in the previous Chuwi review, the Goldmont is a nice step forward for performance in the Atom cores, but still lags behind Core by a significant amount. The gap isn't as large as you might think though, with the N3450 around 70% or so of a Broadwell Core M processor, but for a fraction of the cost. It's not going to be the ideal machine for people who need to crunch a lot of numbers, and Intel clearly draws a line in the sand between the U series Core and Apollo Lake, but for a small and portable laptop, it should be fine for most light tasks.
Storage Performance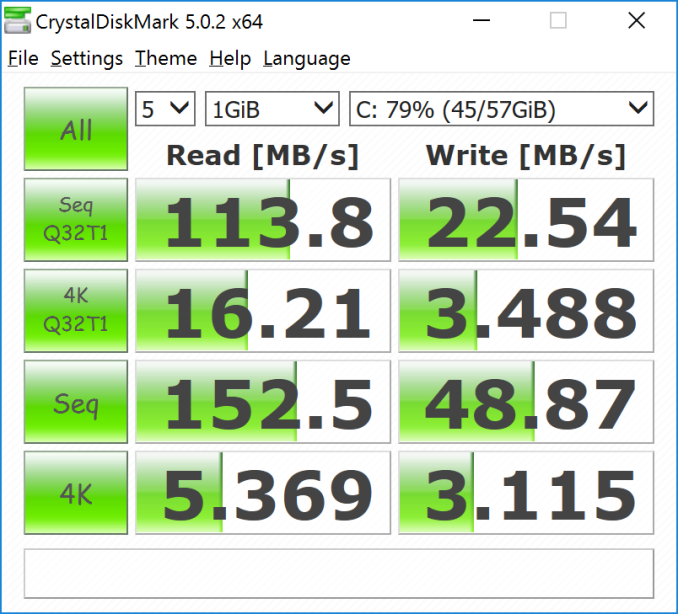 With 64 GB of eMMC storage, the key here isn't going to be outright performance, but just having enough capacity that Windows isn't constantly tripping over itself. 32 GB machines tend to quickly fill to the point where you're going to struggle with everyday tasks, but 64 GB is enough of a buffer that you can generally get by if you don't store a lot of media on the eMMC itself. For those that need expansion, there's a microSD card slot, as well as a M.2 slot on the bottom of the device to add another drive if you are that ambitious.
The performance is as expected for eMMC, with decent read and write sequential speeds, but random access is not great.
GPU Performance
When we tested the LapBook 14.1, the results from the 12 EU Gen 9 graphics on the Celeron N3450 were not great. In fact, they were outright dismal. Even our lowest end game, Dota 2, at our lowest settings, only achieved 15 frames per second. Therefore, there wasn't much point in going over that again here, since the results will be exactly the same. 3DMark was run on it just to get some numbers into Bench, but for anything beyond the most basic tasks, the GPU in the Celeron is not going to be enough.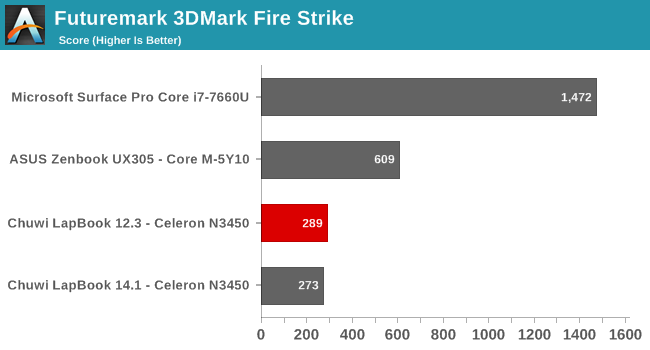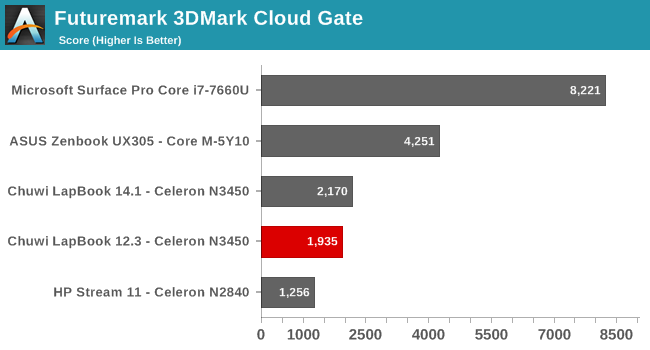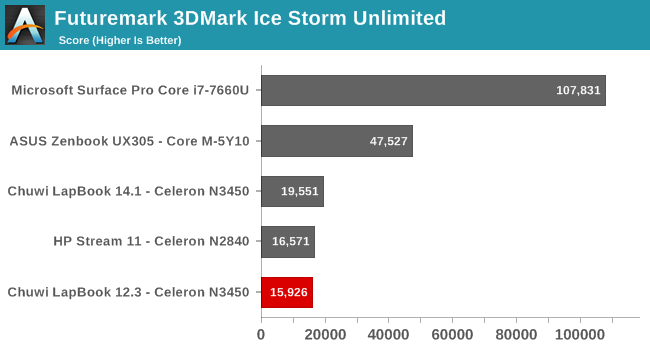 There is an improvement over the older Atom Celeron platform, but it's simply gone from terrible to very bad. With most of the Intel Core lineup having at least double the execution units, and more CPU performance, any GPU tasks are going to be a lot better on a laptop with Core.