AnandTech Storage Bench - Heavy
Our Heavy storage benchmark is proportionally more write-heavy than The Destroyer, but much shorter overall. The total writes in the Heavy test aren't enough to fill the drive, so performance never drops down to steady state. This test is far more representative of a power user's day to day usage, and is heavily influenced by the drive's peak performance. The Heavy workload test details can be found here. This test is run twice, once on a freshly erased drive and once after filling the drive with sequential writes.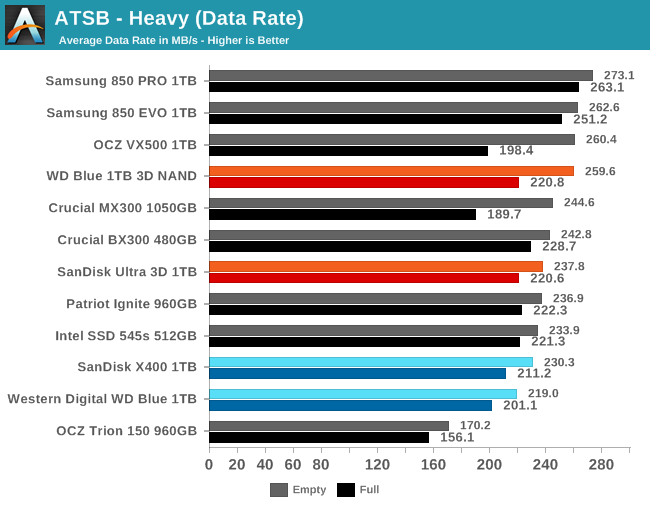 Orange is for the new drives, Blue is for the previous generation models
The new WD and SanDisk SSDs offer improved average data rates on the Heavy test. Their peak performance when the test is run on an empty drive rivals Samsung's 850 EVO, but Samsung still has the clear advantage in performance consistency with the best performance on a full drive.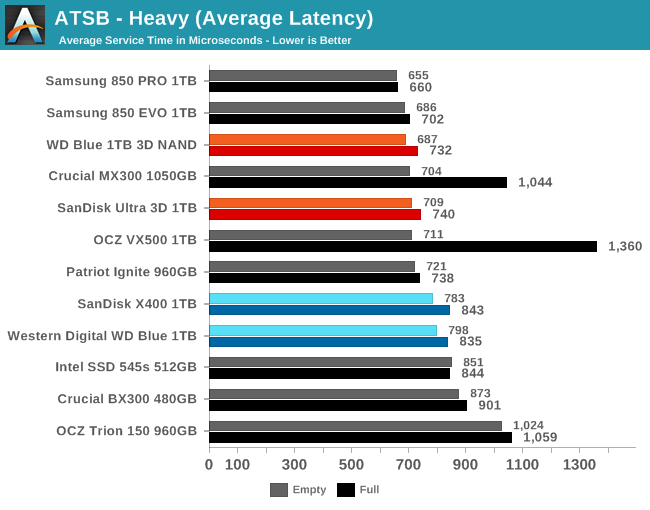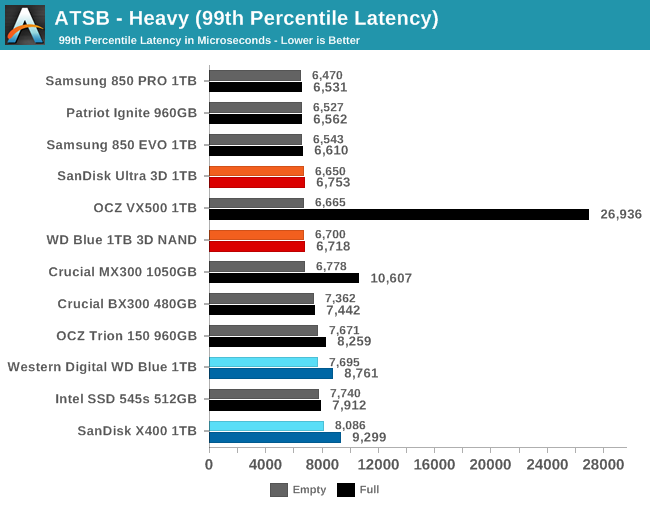 Average and 99th percentile latencies are both improved, placing the new WD and SanDisk SSDs in the top performance tier for SATA drives. The 99th percentile latency results in particular show improved handling of a full drive.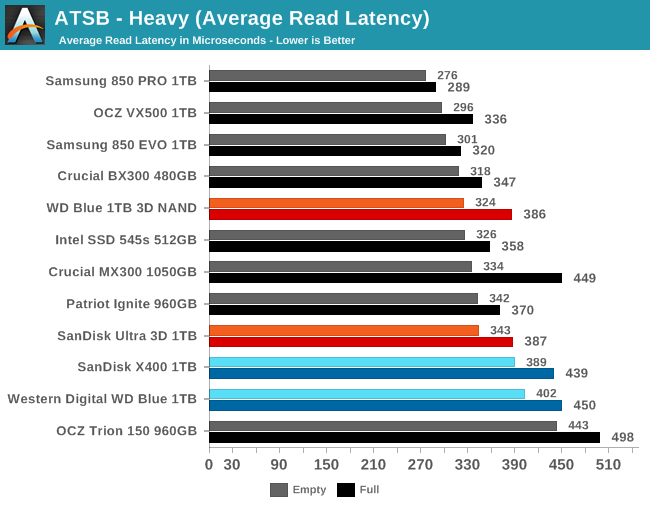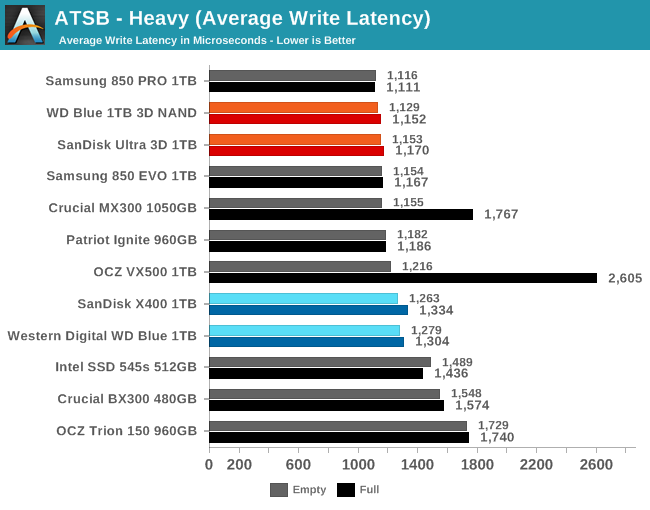 Average read and write latencies on the Heavy test have both been reduced by more than 10%, putting the new Western Digital SSDs on par with their modern 3D NAND competitors.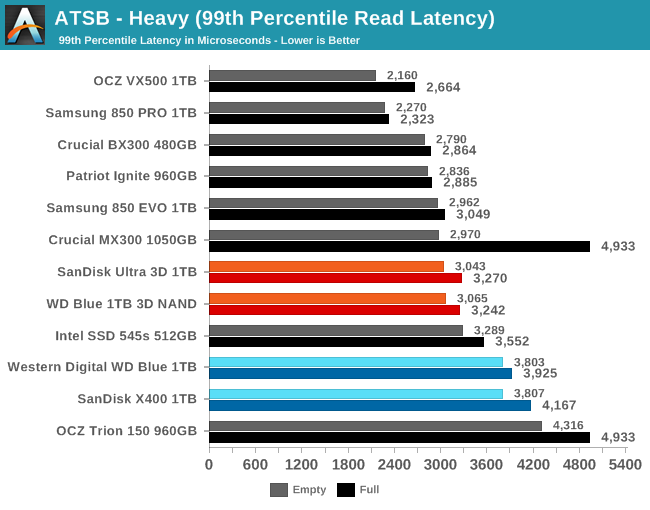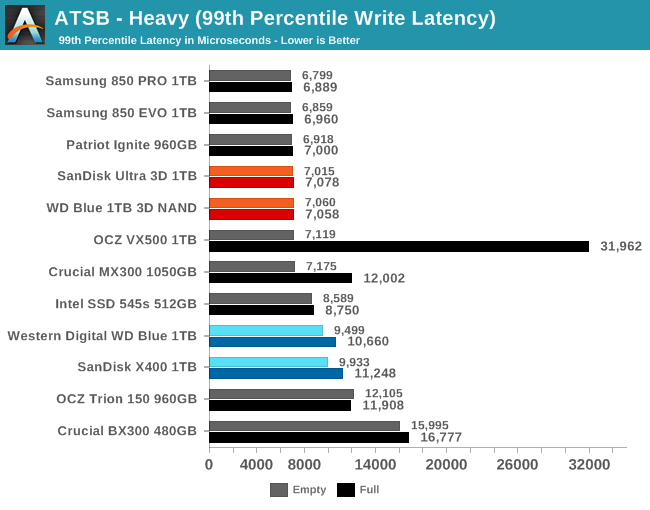 The 99th percentile read and write latencies show even larger improvement than the averages, with reductions of more than 20% for the WD and SanDisk 3D NAND drives compared to the preceding planar TLC drives. The 99th percentile write latency is now in the top tier, but the 99th percentile read latency has merely improved to average as the MLC SSDs all beat the TLC SSDs on that metric.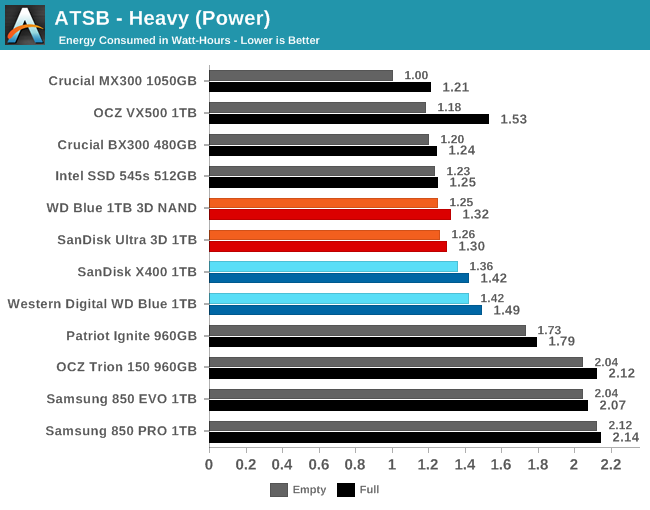 Energy efficiency on the Heavy test has clearly improved with Western Digital's switch to 3D NAND, but the Intel/Micron SSDs still come out ahead, and even the Toshiba OCZ VX500 with planar MLC is more efficient so long as the test is run on an empty drive.