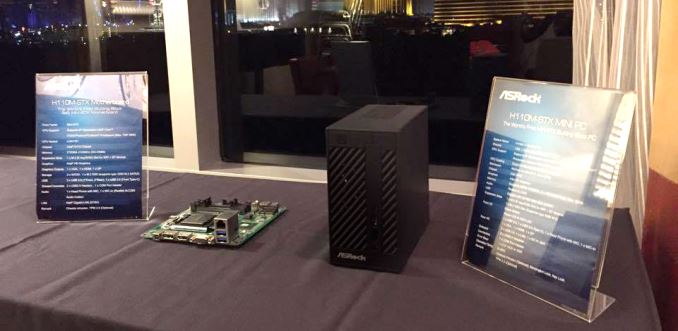 Ever since Intel announced their 5x5 platform (that's 5-inch by 5-inch), we have had several requests from users saying 'when?'. At the time of the announcement, it was difficult where Intel was trying to place the platform – the goal seemed to show something for embedded platforms that also had a socketed processor. This would allow customers to choose how much processing power they needed up to 91W if it is built for it, or potentially upgrade later down the line. This is compared to the NUC, which runs mobile processors in an even smaller form factor. Despite the interest from end-users, it has always come across as a non-consumer play. ASRock's showcase at CES pushes it further into that B2B market with specific verticals in mind.
We learned that 5x5 now has an 'official' name in Mini-STX, similar to mini-ITX which is 6.7-inch square. But on display from ASRock were a singular motherboard, the H110M-STX, and a prebuilt system called the H110M-STX Mini PC.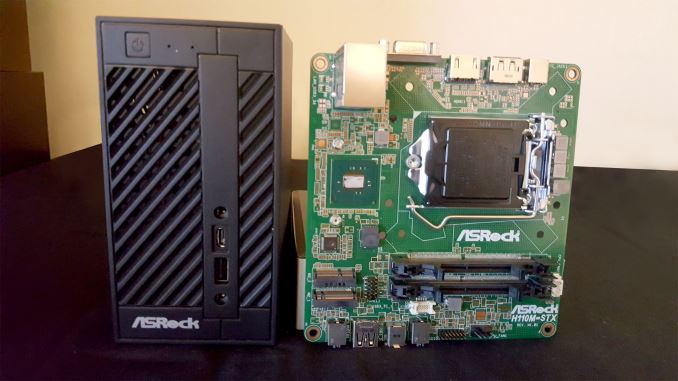 As the H110 name implies, this system is for Skylake processors and built on the H110 chipset. The motherboard uses a three-phase power delivery, rated at 65W, and memory comes via two DDR4 SO-DIMM slots supporting up to 32GB of DDR4-2133 (we wouldn't really expect anything higher than 2133 in this form factor anyway). The socket area pushes right up against what would be the rear IO panel because of space, and the ports here have a low z-height to ensure cooler compatibility.
Storage comes via an M.2 2280 slot supporting SATA 6 Gbps – the specifications say it also has two SATA 6 Gbps ports, but unless they're available through a breakout cable I can't see the traditional way to connect these to a motherboard. Network connectivity is through the Intel I219-V NIC as well as an M.2 2230 slot for WiFi and BT. Video output is designed to come through the processor (so Intel HD Gen 9) and the rear IO has a VGA, HDMI and DP port for use. There are two USB 3.0 ports on the back as well as one on the front, two USB 2.0 headers, and a custom USB-C header for the H110M-STX Mini-PC. Audio comes via a Realtek ALC283 codec using the onboard header. TPM 2.0 is also included.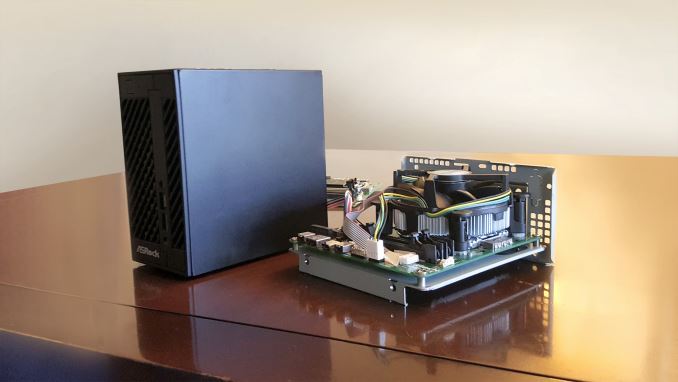 As for the Mini-PC system ASRock showed, this is designed specifically for this motherboard only and comes in at 1.92 liters (155 x 155 x 80 mm). It will be boxed with the Intel stock fan, and come with a 2.5-inch drive bay as well as a Kensington Lock. Separate SIs will have to decide what CPUs, DRAM and WiFi modules to use, as well as the M.2 slot for storage. Power for the system is provided by a DC-In port on the rear of the system, and given that the socket is designed for up to 65W in this case, I'd imagine that the power brick should be in the 90W range. It is also worth noting that to use the VGA connector, there seems to be a long cable from that odd port next to the DRAM to the VGA connector on the rear.
We saw a few other 5x5 systems on display at CES, although they all pretty much aim for the same business crowd – either verticals such as education or digital signage/gambling, which is essentially what a lot of NUCs end up in. 5x5 is clearly a play for more performance, attempting to reduce costs, but it seems Intel is letting its partners get the first bite of the cherry – we did see a 5x5 from ECS, who plays a big part in Intel's NUC production. Then on the other side we have people like Zotac, who end up doing their own custom designs anyway.
But for now, it seems ASRock is keeping this as a B2B play and testing the water. We've not heard if this is going to be worldwide or a specific market play, but as a result pricing will be relative to the market and interest, meaning interested parties should contact their local ASRock sales offices.
Source: ASRock