GPU Performance
While CPU performance has improved significantly in low-end and mid-range smartphones, the same can't be said of GPU performance. Adreno 306 is really just a variant of Adreno 305, which we have covered time and time again in reviews of Snapdragon 400 devices. I already discussed in my Moto E review that I'm not happy with the graphics performance in Snapdragon 410 and with the GPU configuration in the Moto G being exactly the same there won't be any significant changes to graphics performance.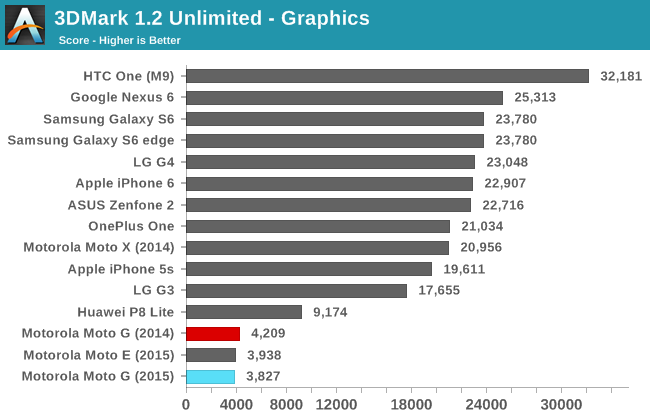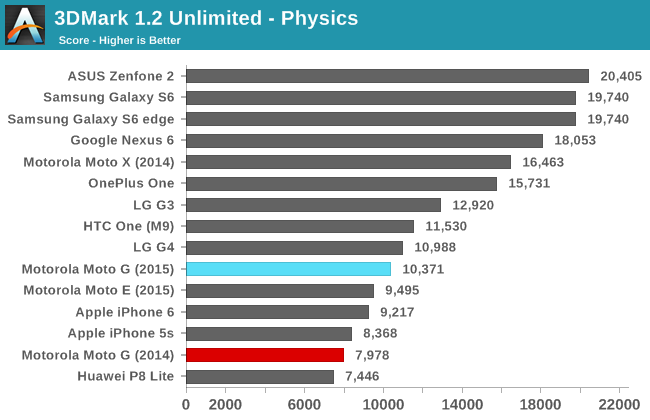 Due to the way 3DMark calculates its overall score, it's not possible for a device to pull ahead based on the score of one test being substantially higher than the other. Because of this, the Moto G's improvement in the physics test doesn't lead to it coming on top overall due to its slightly lower graphics score. I would just attribute the lower graphics test score to testing variance, and so in reality the Moto G will be slightly faster than the Moto E or older Moto G in any physics heavy games.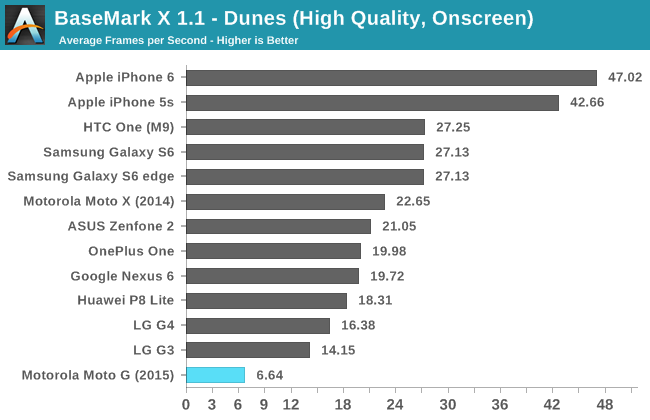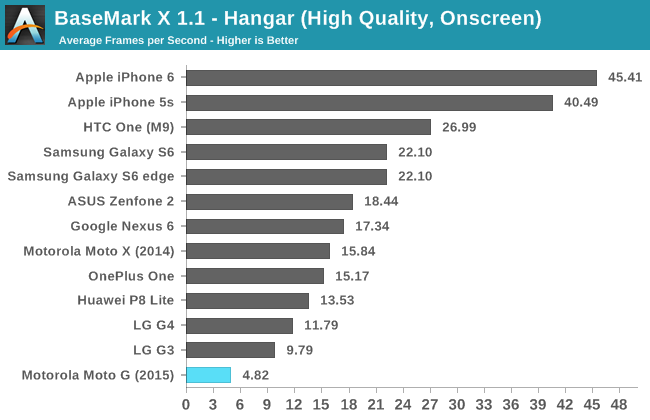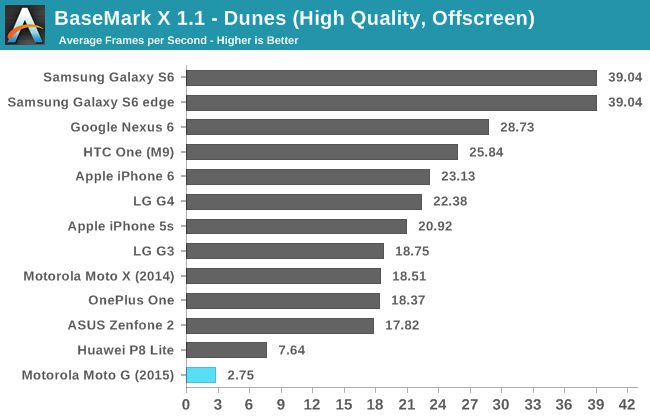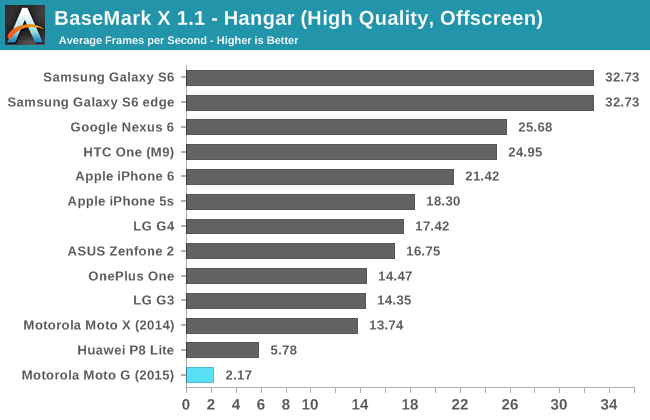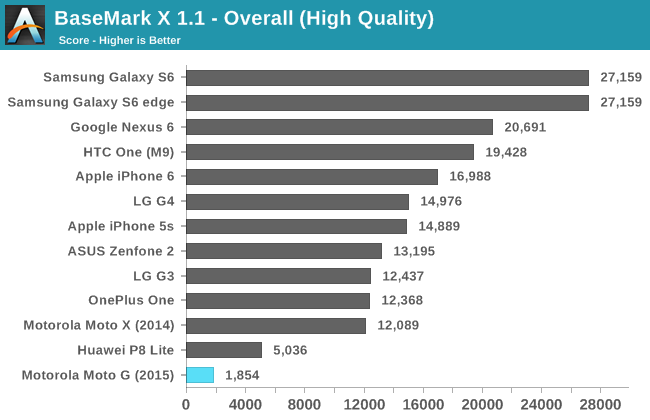 Driver bugs had previously prevented me from running BaseMark X on Snapdragon 410 devices. This appears to have been resolved, as the test runs and completes on the Moto G. There's not much to be said about the scores, which are at the bottom of the charts in every single test.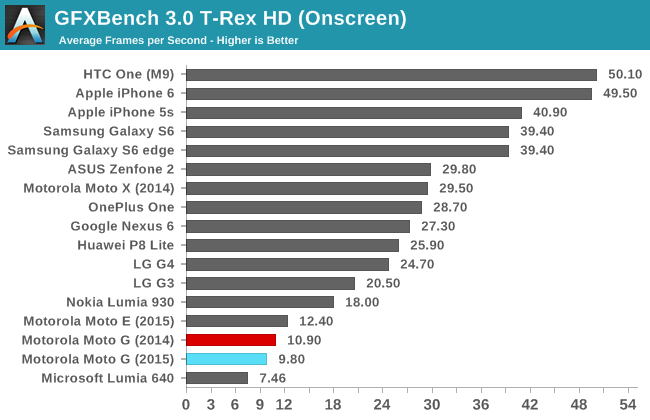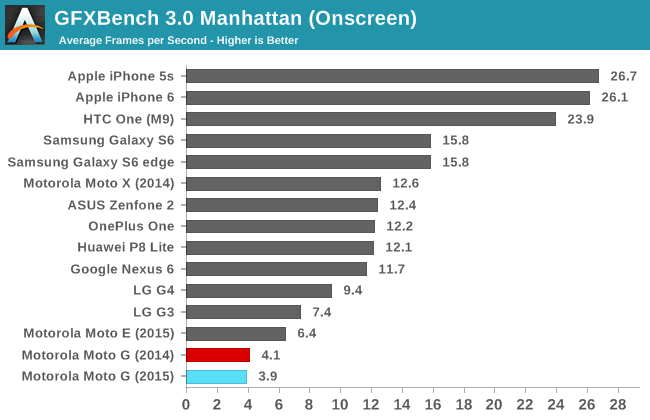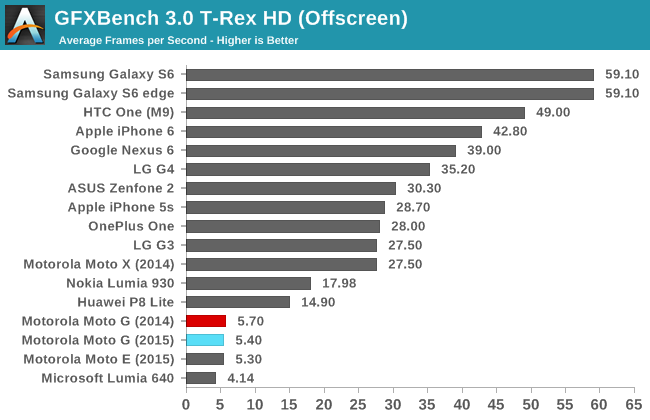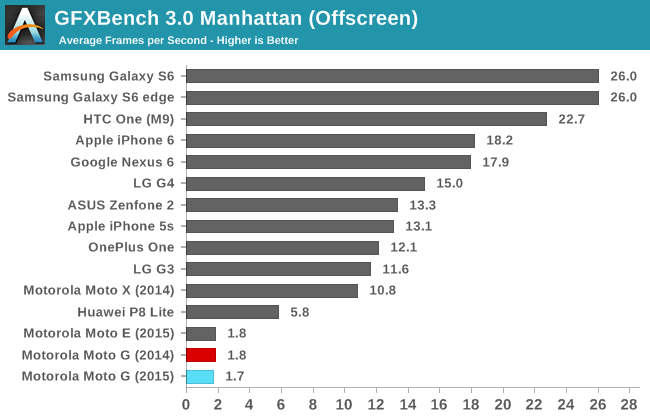 As expected, performance in GFXBench on the new Moto G is essentially identical to that of other Adreno 305/306 devices. Unfortunately they all share a space at the very bottom of each chart, and end up being between 1/3 and 1/2 the speed of the Adreno 405 GPU in Snapdragon 615.
When I reviewed the Moto E I gave the GPU performance a pass because the phone sold for $100-130. With the Moto G priced as high as $219 for the high end model, I have to say that $30 more gets you the Huawei P8 Lite which uses Snapdragon 615 and Adreno 405 which is substantially faster. There's not much Motorola could do about this apart from using a completely different SoC, but obviously that wasn't a possibility when building a device that does start at $179 even if it scales up to $219. I just hope that we see some improvement in GPU performance on devices at this price point in the near future.
NAND Performance
Flash memory performance can often be an invisible performance bottleneck when applications are running in the background, writing files, or performing updates. Low-end and mid-range devices often suffer from very poor NAND performance which can cause stuttering or slowness whenever there's heavy I/O activity occurring.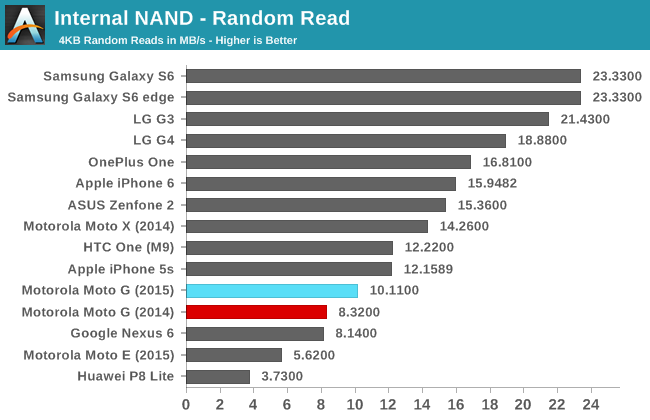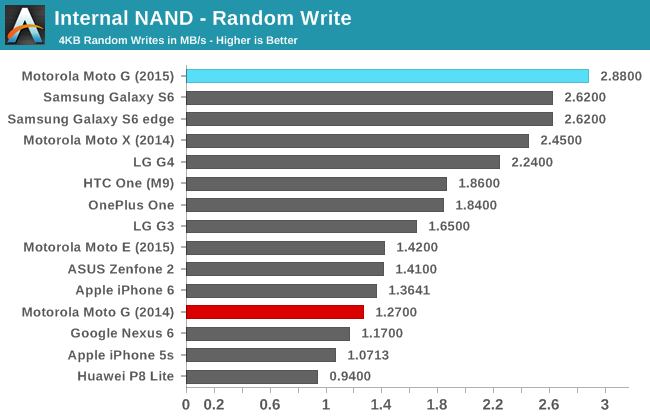 Random read speeds on the Moto G are much faster than the Moto E or the Huawei P8 Lite. They're certainly not the fastest on record, but they're at the point where I wouldn't worry about them causing performance problems in most circumstances. The random write speed is a very curious case, with it being faster than every other device on record. There doesn't appear to be any problem with the testing, and it seems that the Moto G's NAND simply has relatively fast random write speeds.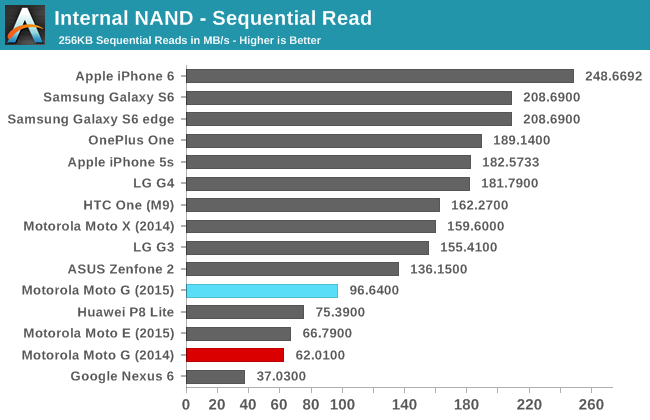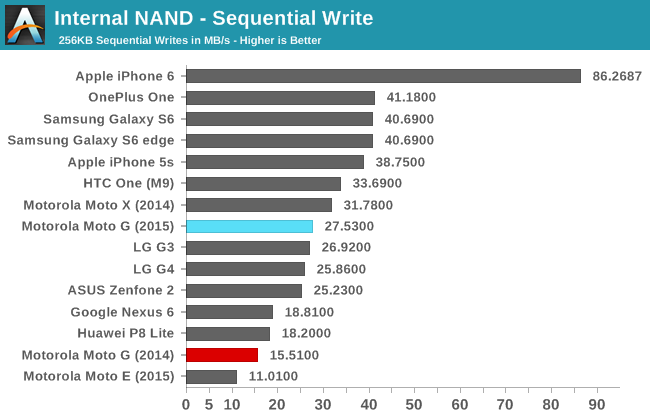 Sequential read speeds on the Moto G are faster than other mid range phones, but not as fast as the Zenfone 2 or flagship Android devices. Sequential writes sit right in the middle of the chart and are around the same speed as the NAND in LG's flagship devices. Whether it's random or sequential access I don't expect users will encounter any performance issues on the Moto G caused by poor NAND performance.