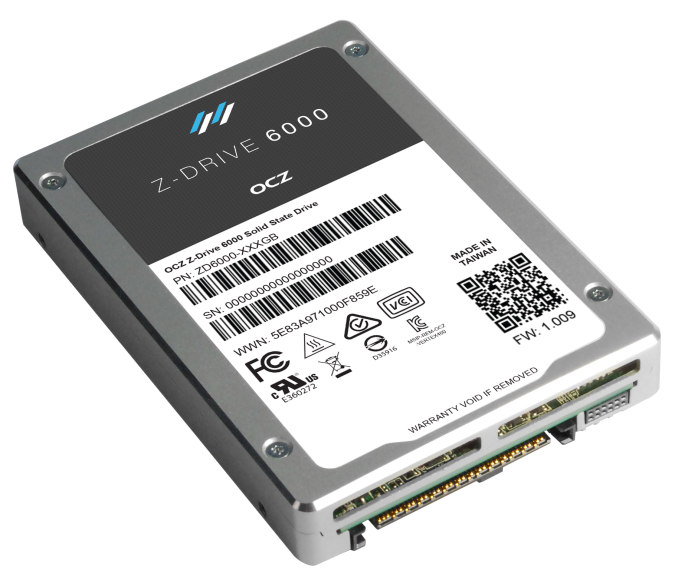 Back at CES OCZ teased us by showcasing the Z-Drive 6000, but the drive was still under development, so the details were rather scarce. Today OCZ is finally lifting the curtain and making a formal announcement of the Z-Drive 6000 series, the company's first NVMe compliant SSD.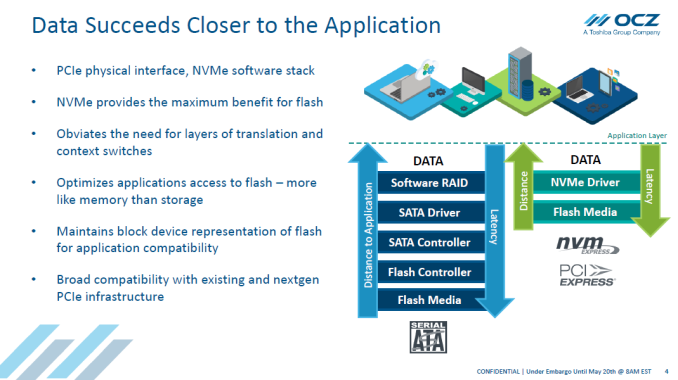 We've talked about NVMe in the past, but in short it's a software/driver stack that replaces the ancient AHCI. NVMe has been designed for SSDs from the ground up and its main benefits are scalability (up to 64,000 outstanding commands versus 32 in AHCI) and streamlined software stack that reduces both latency and CPU overhead for higher and more efficient performance. The Z-Drive 6000 series supports the native Windows (8.1 & Server 2012 R2), Linux, UNIX, Solaris, and VMware NVMe drivers, although OCZ will also have custom NVMe drivers for Windows, Linux, and VMware for drive management reasons. The current native drivers lack some necessary management features (e.g. I still haven't found a way to secure erase an NVMe drive with the in-box drivers), so in order to have the features available at launch OCZ is offering a custom driver. That said, OCZ is fully invested in improving the native open source drivers, but the problem is the long turnaround time for updates that has created the need for vendor-specific drivers.
OCZ Z-Drive 6000 Series Specifications
6000
6300
Capacities
800GB; 1,600GB & 3,200GB
Form Factors
2.5" 15mm (SFF-8639)
2.5" 15mm & HHHL AIC
Interface
PCIe 3.0 x4 (NVMe 1.1b)
Controller
PMC-Sierra "Princeton"
NAND
Toshiba A19nm 128Gbit MLC
Toshiba A19nm 128Gbit eMLC
Endurance
1 DWPD
3 DWPD
Encryption
AES-256
Power Loss Protection
Yes
Yes
Warranty
Five Years
Price
~$1.70/GB
~$2.00/GB
The Z-Drive 6000 series comes in two flavors: 6000 and 6300. The underlying controller and firmware architectures are the same in both models and the difference lies merely in NAND: the 6300 uses more durable eMLC NAND, which increases the endurance to three drive writes per day from one in the 6000 with normal MLC. Due to the endurance, the 6000 is aimed more towards read-intensive applications such as online archiving and media streaming, whereas the 6300 is suitable for mixed workloads that includes for example big data analysis and financial transaction services.
Unlike Intel, OCZ doesn't offer a model for write-intensive workloads with super high endurance (10 DWPD). OCZ explained to me that the reason is mostly cost efficiency -- a high endurance drive is doable, but it would require additional over-provisioning (which is what Intel does) that would increase the cost. OCZ did some market research and concluded that most customers are seeking for lower cost NVMe drives to make the transition, so OCZ didn't see a huge niche for the expensive high endurance drives. At $1.70 and $2.00 per gigabyte, the Z-Drive 6000 series is certainly price competitive against Intel's P3x00 series and the premium isn't too large compared to the enterprise SATA/SAS SSDs.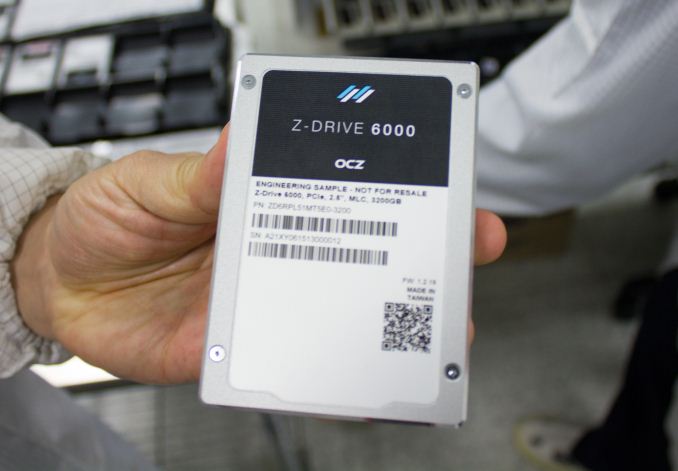 At the time of launch, the Z-Drive 6000 series will be available in capacities of 800GB, 1.6TB and 3.2TB. OCZ does, however, have a 6.4TB Z-Drive 6300 in development, which is scheduled to be available in Q4'15. The reason for the delay lies in NAND because in order to fit 8TB of flash inside a 2.5" chassis, OCZ needs to use 16-die packages, but currently the price of those is, from what I have heard, approximately 3x higher per gigabyte compared to 8-die stacks. The production as well as yields are expected to ramp up during this year, so the 6.4TB Z-Drive 6300 will be available once the NAND is available in high volume and at a reasonable price.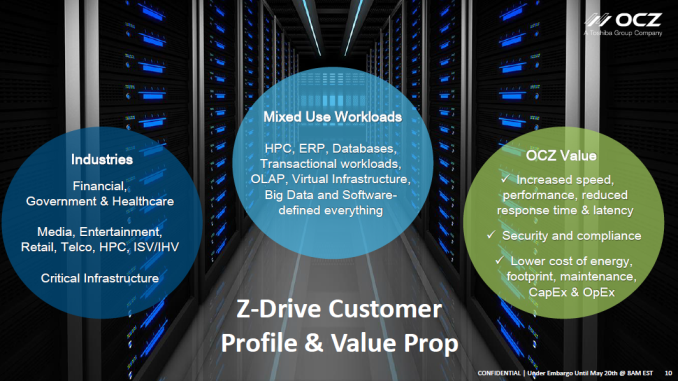 The Z-Drive 6000 series employs PMC-Sierra's "Princeton" controller, which is a native NVMe controller with support for 16 NAND channels. The controller supports PCIe 3.0 x8 interface, but OCZ has decided to split that to offer two independent 3.0 x4 connections to the host. The benefit of dual-port is redundancy and data availability because if one of the host systems is down (due to hardware failure for instance), the data is still accessible through the second host. This is a feature borrowed from SAS and the Z-Drive 6000 is actually the first NVMe drive to have dual-port support, which is something OCZ said its customers have been looking for.
Typical enterprise-class features, such as AES-256 encryption, full power loss protection and end-to-end data protection are all included as well. The Z-Drive 6000 series also features user-configurable power modes (15W, 20W and 25W), which can be used to limit the power consumption (and performance) in more temperature critical environments. A 2.5" 25W drive will definitely run hot and require a high amount of airflow for cooling, although OCZ did pay close attention to the chassis design to maximize heat dissipation and avoid throttling issues.
OCZ Z-Drive 6000 Series Performance Specifications
Model
6000
6300
Capacity
800GB
1,600GB
3,200GB
800GB
1,600GB
3,200GB
Raw NAND Capacity
1,024GiB
2,048GiB
4,096GiB
1,024GiB
2,048GiB
4,096GiB
128KB Sequential Read
2.2GB/s
2.9GB/s
2.9GB/s
2.2GB/s
2.9GB/s
2.9GB/s
128KB Sequential Write
1.3GB/s
1.9GB/s
1.9GB/s
1.0GB/s
1.4GB/s
1.4GB/s
4KB Random Read
600K IOPS
700K IOPS
700K IOPS
600K IOPS
700K IOPS
700K IOPS
4KB Random Write
115K IOPS
160K IOPS
160K IOPS
75K IOPS
120K IOPS
120K IOPS
Mixed 4KB 30R / 70W
290K IOPS
330K IOPS
330K IOPS
230K IOPS
280K IOPS
280K IOPS
Idle Power Consumption
9W
9W
9W
9W
9W
9W
Active Power Consumption
25W
25W
25W
25W
25W
25W
OCZ focused specifically on read performance and at up to 700K random read IOPS, the Z-Drive is definitely top of the class as Intel specs the P3700 at only 460K IOPS. Random write and mixed performance look excellent too, so it will be very interesting to see how the Z-Drive 6000 stacks up against the Intel and Samsung drives in objective third party testing. Note that the Z-Drive 6300 with eMLC is a bit slower in writes, which is due to the fact that eMLC NAND has higher program latencies (basically the voltage distribution for each voltage state is smaller, so programming requires more precision that is achieved by increasing the number of program pulse and verification iterations).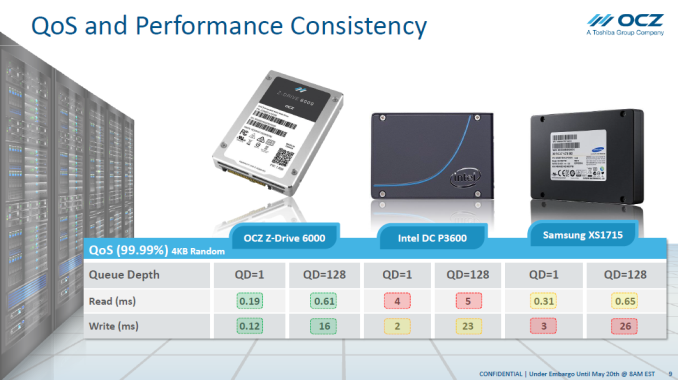 OCZ's own testing data puts the Z-Drive 6000 way ahead of the competition in terms of performance and consistency in both reads and writes. I would of course take the data with a grain of salt, but if the Z-Drive 6000 series is really as good as OCZ's marketing suggests, then OCZ has one hell of a drive in its hands. OCZ is currently sampling the Z-Drive 6000 series to key customers and partners, so I would expect more widespread availability to be later this year. All in all, it's a very potent drive that could very well help OCZ gain some market share in the enterprise space.