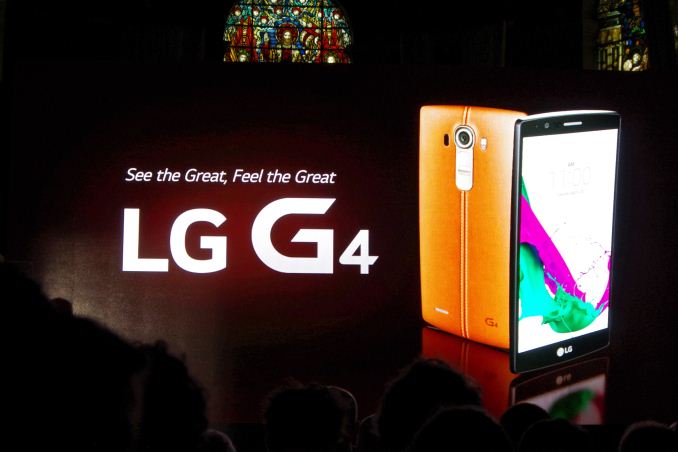 In a joint event between London and New York, LG has lifted the veil on the next iteration of its high-end smartphone, the G4. The G3's designs largely borrows from the G3 and iterates on it with a new slightly curved screen and optional leather back covers. The camera seems to be LG's core focus for this device, and we'll get back on those details in just a bit.
The G4 will be the first device to officially use the Snapdragon 808, Qualcomm's MSM8992 big.LITTLE SoC arrangement that uses two ARM A57 cores in one cluster clocked in at 1.82GHz and four ARM A53s at 1.44GHz in the other. The GPU also uses a lower end Adreno 418 clocked in at 600MHz. Qualcomm avoided LPDDR4 in the S808, and thus remaines a LPDDR3 piece likely running at up to 933MHz.
While we're not too concerned with the resulting CPU performance and loss of two big cores, and slight frequency loss of the Snapdragon 808, it's the GPU which should see higher impact as 3D performance suffers a tad compared to the Snapdragon 810's Adreno 430. In our preliminary tests with the demo device, we see GFXBench Manhattan offscreen go down from 22.7fps to 15fps and T-Rex from 49fps down to 35fps when comparing the G4 to the HTC M9, which sports a FHD screen as opposed ot the QHD one we find in the LG device.
The detailed specification lists shows the iterative improvements over the G3, launched last year:
LG G3

LG G4

SoC
MSM8974AC Snapdragon 801
4x Krait 400 @ 2.5 GHz
MSM8992 Snapdragon 808
2xA57 @ 1.82GHz
+
4xA53 @ 1.44GHz
GPU
Adreno 330 @ 578MHz
Adreno 418 @ 600MHz
RAM
3GB LPDDR3

933MHz

3GB LPDDR3 933MHz
NAND
32GB NAND (eMMC 5.0)
+ microSD
32GB NAND (eMMC 5.0)
+ microSD
Display
5.5-inch 2560x1440 IPS LCD
5.5-inch 2560x1440 IPS LCD
Network
2G / 3G / 4G
Qualcomm MDM9x25
UE Category 4 LTE
2G / 3G / 4G
Qualcomm X10 (Integrated)
UE Category 9 LTE
Dimensions
146.3 x 74.6 x 8.9 mm
149 grams
148.9 x 76.1 x 6.3 - 9.8 mm
155 grams
Camera
13MP rear camera, 1.12 µm pixels, 1/3.06" CMOS size,
F/2.4. 2-axis OIS

2.1MP F/2.0 FFC
16MP Sony IMX234 rear camera,
1.12µm pixels, 1/2.6" CMOS size
F/1.8, 3-axis OIS

8MP Toshiba T4KA3 FFC
Battery
3000 mAh (11.4 Wh)

replaceable

3000 mAh (11.4 Wh) replaceable
OS
Android 4.4.2 with LG UI
Android 5.1 with LGUX 4.0
Connectivity
802.11a/b/g/n/ac + BT 4.0, USB2.0, GPS/GNSS, MHL, DLNA, NFC
802.11a/b/g/n/ac + BT 4.0
SIM Size
MicroSIM
NanoSIM
The screen size and resolution stay constant at 5.5" and QHD, but the device has an angular element to it, similar to the LG G Flex 2 but not as pronounced: The screen is touted to be a new generation IPS Quantum display. It looks like LG is claiming 20% gamut increase. The display has 50% increased contrast over the G3, achieving a total of 1500:1 contrast ratio. The G4 reintroduces Panel Self Refresh which was unfortunately missing from the G3, and this should vastly improve battery life over its predecessor.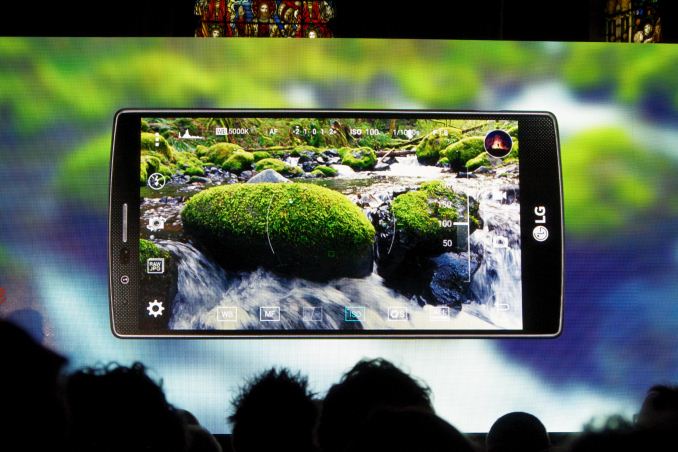 The screen has a 3000mm radius curve throughout the phone's design that LG markets as "Slim Arc" design.
The phone comes in several different plastic and leather cover options. These are high-quality hand-produced genuine leather products. The plastic version sports a diamond pattern mimicking a metallic look. This also means the G4 is slightly bigger and heavier than the G3 as it comes at a increased 155g. The removable battery of the G4 remains similar to the G3 at 3000 mAh, and the SIM moves to the nano-size. The microSD slot remains an option for the G4.
The G4 gets a camera update, moving from a 13MP to a 16MP design that migrates from an F/2.4 to F/1.8, allowing for potentially better performance. We find a Sony IMX234 sensor, a unit we haven't yet seen used in any other devices. LG were keen to point the F/1.8 over Samsung's F/1.9 on the latest Galaxy S6. The new OIS system dubbed "OIS 2.0" now offers a 3-axis gyroscope instead of the traditional 2-axis implementations in all current OIS devices. Another first is the implementation of a colour spectrum sensor next to the flash unit, and is able to read RGB and infrared light. LG is able to vastly improve white-balance and also increase clarity for more natural pictures.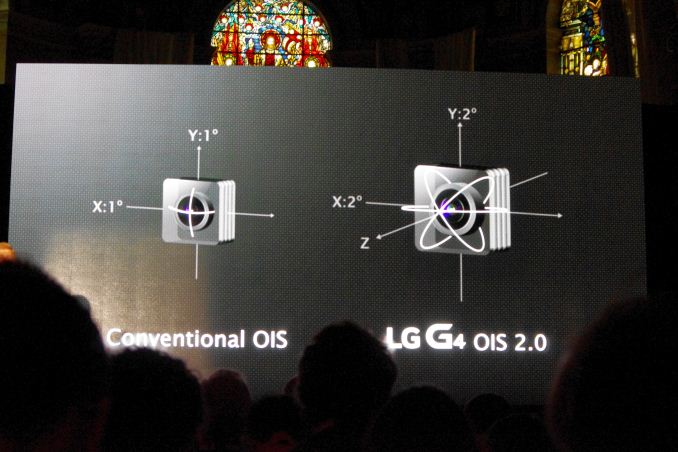 The phone now also offers full manual control, with customizable ISO, exposure, shutter speed and white balance among other things. RAW format capture is also supported. Double clicking on the rear buttons already takes a picture within a second, LG is here taking another stab at Samsung's S6 as it only is able to open the camera app in the same time.
The front camera has been boosted to a 8MP Toshiba T4KA3 sensor and sports an improved gesture shot triggering function.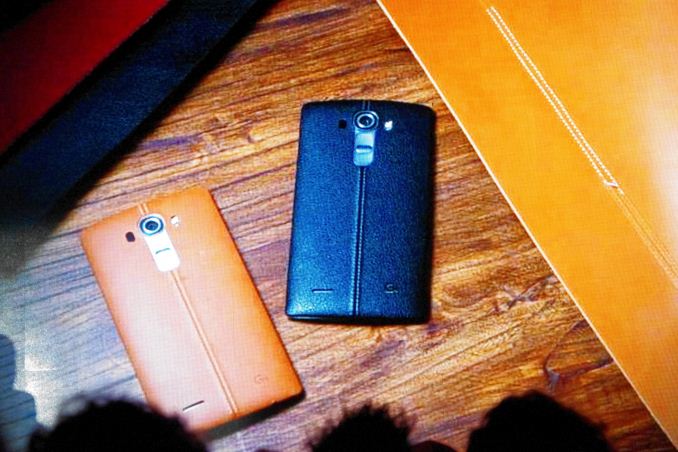 The volume rocker on the rear changes slightly, moving to a flatter central piece. The flash element of the camera in this area is a dual LED design, and we also find the microphone grille at the bottom. One of the elements LG seems to be pushing with the G4 is the design of the back cover, allowing for a replaceable leather rear while retaining the front facia that exhibits a faux carbon-fibre effect of sorts.
The device should be available this week in major markets. We're currently waiting in line to get some hands-on time with the device, and hopefully on the list to get a sample to follow up from the LG G3 review.