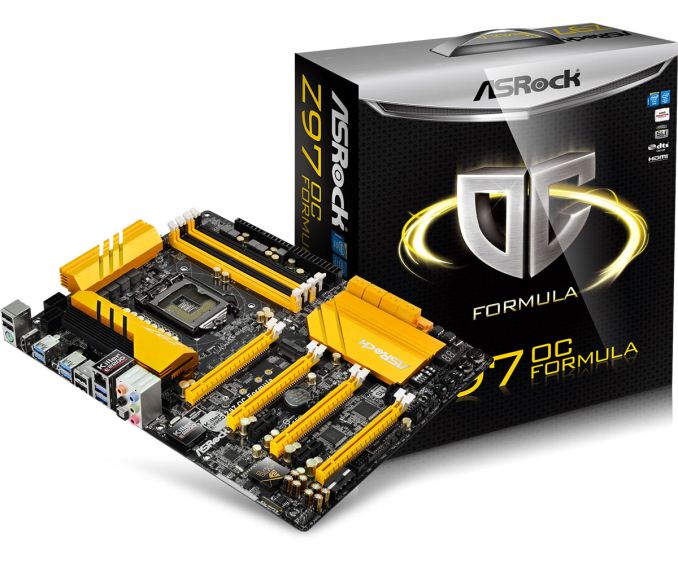 ASRock is quietly confident of its OC Formula range. We awarded the Z77 version because of its aggressive tactics at the $240 price point and while the Z87 model offered even more but at $330 it missed that sub-$250 market which cheaper overclocking builds are built on. The Z97 OC Formula ditches the Lamborghini on the box and comes back down to earth at $210, although the feature set becomes lighter as a result. The mainstream overclocking motherboard market is always hot at $200, so today we are putting the Z97 OC Formula through its paces.
ASRock Z97 OC Formula Overview
When we first reviewed the Z77 OC Formula, we praised its price point and feature set, especially when other Z77 overclocking motherboards around the same price point where taking chunks of the market. At the time we concluded that a motherboard as a whole was well constructed and an event, but a little more as part of the package would be nice just to sweeten the deal. For the Z87 version, ASRock released a $330 price point overclocking board with features such as an LCD that displayed temperatures and voltages while the system was in use. While it performed well, the increase in price made it feel like it had lost that $200-250 market that the original OC Formula was aimed at. We suggested that if ASRock had released it as a 'Z87 OC Formula Plus' and something else was lower down the price stack, it might have been better received.
For Z97, the tables have turned in the opposite direction. Here we have a $210 product, with the micro-ATX at version at $130. The only issue ASRock had for Z97 in terms of price-competitiveness is that the Z97 chipset is more expensive than the previous generations. This gives ASRock less room to maneuver in terms of feature set.
Nevertheless, for that $210 we still get some quintessential ATX OC Formula features. The superhydrophobic Conformal Coating is still here, covering the motherboard in a water repellent surface (although ASRock still recommend you do not purposefully drop liquids on it as the socket and slots are not insulated for obvious reasons). In fact it would seem that the Conformal Coating has been revised slightly - the amount of superhydrophobic polymer is more even across the board and is aesthetically more discreet. The OC Formula also supports 4-way Crossfire and 2-way SLI due to the x8/x4/x4 + x4 or x8/x8 layout, and we get overclocking buttons with voltage check points as well as a Killer E2200 series network port and upgraded Realtek ALC1150 audio. New for 9-series is HDD Saver, a tool that gives the user control over the power of two of the SATA drives. This allows the user to hide the drives when not in use saving them from data attacks or in order to improve longevity.
Due to the price reduction from Z87, there is no air/water combination cooling for the power delivery, although the XXL heatsinks should be sufficient for any 24/7 setup. There is no mini LCD screen either, but the two digit debug is sufficient at this price.
The main competition for the Z97 OC Formula ($210) will be the Z97X SOC Force ($195), the Z97 MPower ($190) and the Maximus VII Hero ($205). All four aim for the heart of the self-build market but with the focus on overclocking and performance rather than gaming bundles or video game bundles and themes.
Visual Inspection
Similar to the other OC Formula motherboards, this one is designed by Nick Shih, ASRock's in-house and former world #1 overclocker. Aiming back down at the $200 price bracket means a step back in features of the Z87, but the heatsinks on this thing are larger than standard. The 12-phase power delivery uses two yellow heatsinks joined by a heatpipe, and the CPU has two 8-pin EPS 12V connectors to supply power. Only one needs to be used for even the heaviest overclocks for 24/7 operation - all our results in this review were taken with one 8-pin installed. ASRock places two purely for the super extreme overclockers using liquid nitrogen.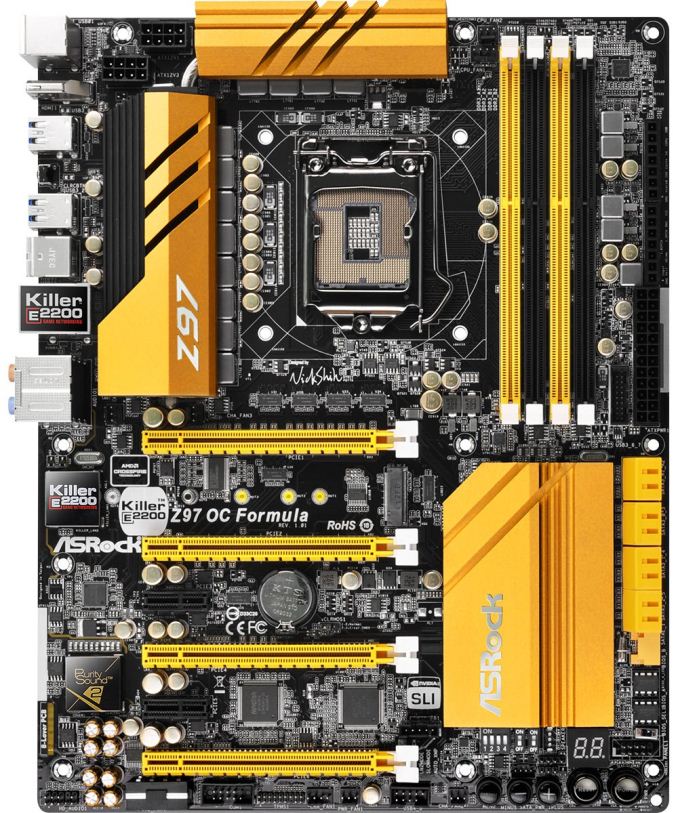 The socket area is not the cleanest for extreme overclockers to insulate, however ASRock is keen to promote its use of 12K capacitors and multiple filter caps to regulate impedance over a larger frequency range. Akin to previous OC Formula motherboards we have multiple temperature sensors on the board, with eight in total and four of them around the socket area. For fan headers this motherboard has seven, four of which are in the socket area. The two CPU fan headers are above the socket between the heatsink and the DRAM, one of these being four-pin. Two others are between the left hand heatsink and the first PCIe slot, although using these with GPUs that have large back plates (such as the Lightning range) might be a bit of an issue. The final three fan headers on the board are at the bottom, one of which is four-pin. This makes only two of the seven being 4-pin headers, an unfortunate trend in ASRock products.

On the right hand side of the motherboard are two sets of voltage check points for extreme overclockers to confirm their settings. A USB 3.0 header is above the 24-pin ATX power connector, and below this are eight SATA ports. The top two are supplied via an ASMedia ASM1061 controller, with the other six via the chipset. There is also the extra connector for a SATA Express drive, although this shares bandwidth with the M.2 slot.
Below the SATA ports are a pair of removable BIOS chips, a BIOS select switch and the front panel header.

The bottom of the motherboard is jam packed, to say the least. Aside from the three fan headers mentioned above, we get power/reset buttons, plus and minus buttons for overclocking, a menu button to bring up an overclock menu, a HDD Saver header, a two-digit debug, a TPM header, a COM header and a 4-pin molex power connector for extra VGA power. Personally I am at the point of despising the 4-pin molex for extra VGA power because the connector is bulky and fewer devices are using molex power in 2014. A SATA power connector, or a 6-pin PCIe, is preferred. Aside from this, the Thunderbolt connector is in between the bottom two PCIe slots, and the PCIe selection switches are underneath the heatsink next to the LN2 Mode switch and Slow Mode switch. Amusingly, there is space for a third switch here and the text 'XMP Mode' next to it – I have a feeling that ASRock were planning an XMP mode switch like ASUS but were not able to get it to work in time for launch. We may see it appear on later Z97 series motherboards down the line or in the next chipset launch.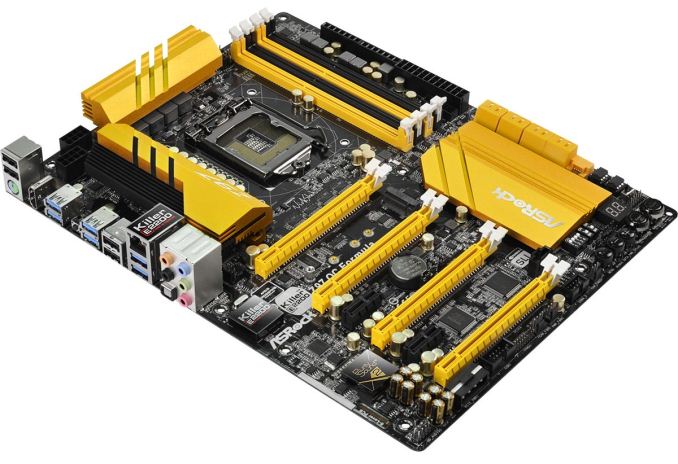 On the right hand side of the motherboard is Purity Sound 2, ASRock's enhanced Realtek ALC1150 audio solution. Here we get an EMI shield for the codec, PCB separation between digital and analog signals and audio-specific filter caps. One could argue that audio for an overclocking motherboard is a little overkill, but it comes down to the market. The market for overclocking boards in 24/7 use is for gamers, and some level of audio is required to offer a good experience. All the motherboard manufacturers are well versed in enhanced ALC1150 audio solutions, so it almost becomes an add-on. I would hazard a guess and say if ASRock had used a lower (ALC892) codec we would have marked it down due to the pricing of the board.
The PCIe layout is the standard Z97 pitch for 4-way AMD GPUs without a PLX chip:
1 GPU: x16
2 GPU: x8/0/x8 (also for SLI)
3 GPU: x8/x4/x4
4 GPU: x8/x4/x4 + x4 from chipset
Those final x4 lanes from the chipset are rated at PCIe 2.0, and are available in any configuration for add-in cards such as audio cards or additional connectivity.
In between the first two PCIe slots is an M.2 connector, supporting 2230 to 22110 sized drives at PCIe 2.0 x2 speeds. This allows M.2 to be part of Intel RST from the chipset, but it does share lanes with the SATA Express port.

In previous OC Formula iterations, the rear panel has featured HDMI-In or dual network ports. Due to the decrease in price, we lose both of these. We have instead a combination PS/2 port, four USB 2.0 ports, six USB 3.0 ports (four from ASMedia ASM1074 hub, two from chipset), HDMI-out, a Killer E2200 series network port, a ClearCMOS button and audio jacks.
Board Features
ASRock Z97 OC Formula
Price
US (Newegg)
Size
ATX
CPU Interface
LGA1150
Chipset
Intel Z97
Memory Slots
Four DDR3 DIMM slots supporting up to 32 GB
Up to Dual Channel, 1066-3400 MHz
Video Outputs
HDMI
Network Connectivity
Qualcomm Atheros Killer E2200 Series
Onboard Audio
Realtek ALC1150 via Purity Sound 2
Expansion Slots
3 x PCIe 3.0 x16 (x16, x8/-/x8, x8/x4/x4)
1 x PCIe 2.0 x4
2 x PCIe 2.0 x1
Onboard Storage
6 x SATA 6 Gbps, RAID 0/1/5/10
2 x SATA 6 Gbps (ASMedia)
1 x SATA Express
1 x M.2 x2
* M.2 and SATA Express share bandwidth
USB 3.0
4 x USB 3.0 from Chipset (one header, two rear panel ports)
4 x USB 3.0 from ASMedia hub (four rear panel ports)
Onboard
8 x SATA 6 Gbps
1 x SATA Express
1 x M.2
7 x Fan Headers
1 x USB 3.0 Header
1 x USB 2.0 Header
HDD Saver Header
Thunderbolt Header
Power/Reset Buttons
Two Digit LED Debug
Menu/Plus/Minus OC Buttons
14 V-Probe Voltage Measurement Points
Slow Mode Switch
LN2 Mode Switch
BIOS Selection Switch
Power Connectors
1 x 24-pin ATX
2 x 8-pin CPU EPS 12V
1 x 4-pin Molex for VGA
Fan Headers
2 x CPU (4-pin, 3-pin)
4 x CHA (4-pin, 3x3pin)
1 x PWR (3-pin)
IO Panel
1 x PS/2 Combination Port
4 x USB 2.0
6 x USB 3.0
HDMI-Out
ClearCMOS Button
Killer E2200 Series Network Port
Audio Jacks
Warranty Period
3 Years
Product Page
Link
While the number of fan headers is much appreciated, the lack of 4-pin headers means that fan control in software might be limited. The use of a Killer NIC over an Intel one is a choice for the manufacturers: the Killer is more expensive, but it comes with network prioritization software. If a manufacturer selects Intel, they have to license cFos, which is better software but the total cost of Intel + cFos is more than the Killer package. I am glad that 22110 M.2 drives are supported, although we really need to see how the M.2 market grows over the next few quarters to see what the most popular M.2 size will be.