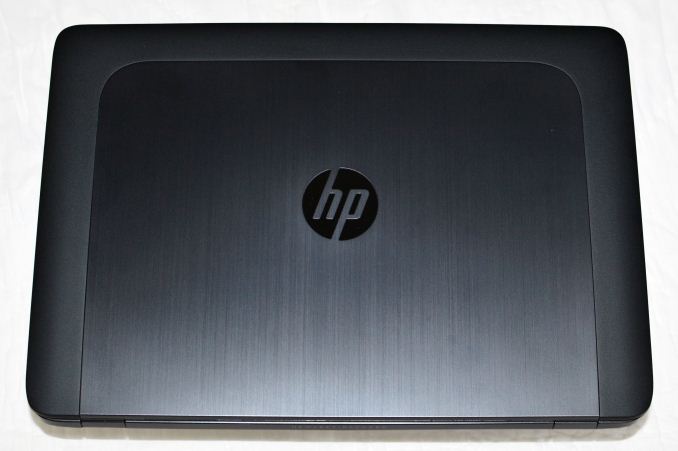 Introducing the HP ZBook 14
Over the past couple of years since Intel first introduced their Ultrabook brand, we've seen many different designs, some good, some lacking in refinement. One thing that we haven't seen much of is Ultrabooks with discrete graphics, which isn't too surprising – it's difficult enough to fit all of the other components into a thin chassis and then keep it cool; adding a dGPU to the mix is just asking for trouble. That's not to say it hasn't been done, but the sleekest designs tend to be CPU-only affairs. HP has decided to enter the Ultrabook with dGPU arena, but they've gone one step further by integrating an AMD FirePro M4100 FireGL V graphics solution. At its core, the dGPU is based on AMD's GCN architecture and sports just 384 cores, so it's mostly an entry-level dGPU solution, but as a member of the FirePro family it comes with drivers that have a few extra features unlocked. The result is potentially much higher performance in some professional level applications; we'll see just how well the M4100 fares in a moment.
Besides the "mobile workstation" angle, HP is definitely targeting the enterprise market with the ZBook 14. It's not quite at the level of the EliteBook, but the ZBook line basically picks up from the ProBook line with a business aesthetic that includes a matte LCD, magnesium alloy frame and covers, and a TrackPoint nub in the center of the keyboard. Other enterprise features include mobile broadband support, Smartcard and TPM options, Intel's VPro (depending on your CPU selection), other security measures, and a default build that ships with Windows 7 Professional. HP shipped us the highest end model (more or less) with Intel's fastest dual-core ULV Core i7-4600U processor, 16GB of DDR3L RAM, 240GB SSD, and a 1080p IPS display. Here's the full specs table.
HP ZBook 14 Specifications
Processor
Intel Core i7-4600U
(Dual-core 2.1-3.3GHz, 4MB L3, 22nm, 15W)
Chipset
QM87
Memory
2x8GB DDR3L-1600
Graphics
AMD FirePro M4100 1GB GDDR5
(384 cores, 670MHz, 4GHz GDDR5)

Intel HD Graphics 4400
(20 EUs at 200-1100MHz)
Display
14.0" Anti-Glare IPS 16:9 1080p (1920x1080)
(AU Optronics)
Storage
240GB SSD (Intel 520 Series SSDSC2BW240A3H)
Optical Drive
N/A
Networking
802.11ac WiFi (Intel Dual-Band AC-7260)
(2x2:2 867Mbps capable)
Bluetooth 4.0 (Intel)
HP lt4111 LTE/EV-DO/HSPA+ Mobile Broadband
Audio
IDT HD Audio
Stereo Speakers
Headset jack
Battery/Power
3-cell, 11.1V, 4500mAh, 50Wh
65W Max AC Adapter
Front Side
N/A
Left Side
Smartcard Reader
2 x USB 3.0 (1 x Charging)
1 x VGA
Exhaust Vent
Kensington Lock
Right Side
Headset jack
1 x DisplayPort
2 x USB 3.0
Ethernet (Hinged Port)
Docking Station Connector
AC Power Connection
Back Side
N/A
Operating System
Windows 7 Professional 64-bit
Dimensions
13.35" x 9.33" x 0.83" (WxDxH)
(339mm x 237mm x 21mm)
Weight
3.57 lbs. (1.62 kg)
Extras
720p HD Webcam
86-Key Backlit Keyboard
Spill-Resistant Keyboard
TrackPoint
Fingerprint Scanner
Pricing
~$2493 via CTO (with CTOZB14 20% discount)
~$2291 Online
HP's pricing again reflects the target market, and while there are frequently sales that might drop the price, this is still a very expensive Ultrabook – at least it is if you're just looking at it as an Ultrabook. Technically I should be clear that not all models of the ZBook 14 are even Ultrabooks – you can order it with pure HDD storage if you want, for example – and HP's configuration utility makes it pretty clear what's required to qualify as an Ultrabook; not that it matters if you're happy with the hardware you select. The ZBook 14 is also larger than the typical 13.3" Ultrabooks we often see, but the added size allows for the presence of the dGPU, two SO-DIMM slots, and a full size 2.5" drive bay with a free M.2 slot. For those that need both performance as well as large amounts of storage, the option for a 120GB M.2 drive paired with a large HDD potentially gives you the best of both worlds, though I'd like to see at least a 240GB M.2 option as well.
If you want to custom configure your system you end up paying a slightly higher price, though as usual there's a rebate code ("CTOZB14") that "saves" you 20%, so the CTO pricing is almost a wash. Given the prices on certain upgrades (e.g. the SSDs in particular cost a pretty penny), it might be best to stick with a basic configuration and only upgrade components that aren't easily exchanged on your own – the 1080p UWVA (IPS) display for instance is almost required in my book, and at $105 extra it's not even priced too badly. $825 for a 512GB SSD on the other hand is basically out of the question; I'd rather just grab an MX100 512GB for $220 and potentially lose out on a bit of performance and features relative to the top SSDs, and it will still smoke a hard drive.
Despite the high price, the ZBook 14 has a lot to offer potential customers. It's a solidly built laptop with the option for a great display, the keyboard has good key travel, and performance is definitely better than your average Ultrabook – and better than plenty of non-Ultrabook laptops as well. Let's take a closer look at the design before moving on to the benchmarks.