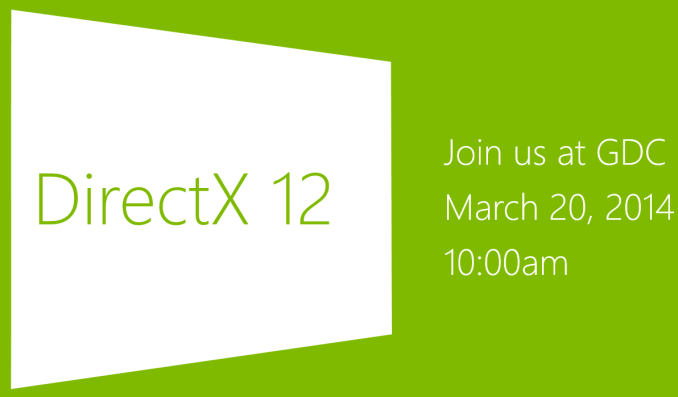 Picking up from where we left off with last week's discussion of GDC presentations, Microsoft has released a short teaser regarding their GDC presentation. The previously mentioned "DirectX: Evolving Microsoft's Graphics Platform" session isn't just a session on low-level APIs, as we first surmised, but will in fact be the formal unveiling of DirectX 12.
Just what DirectX 12 will contain remains to be seen. Given the session descriptions for this and other sessions, low-level (ish) interfaces for Direct3D seems likely. But it's not clear if there are updates in store for any of the other components of DirectX.
Historically speaking, Microsoft has been overdue for a new DirectX announcement. Other than the various point updates over the last couple of years, Microsoft hasn't had a major DirectX announcement since DirectX 11 in 2009, with DirectX 10 coming 3 years before that in 2006.
In the meantime it's interesting to note who's listed as a participating partner in Microsoft's tease. The big 3 – AMD, Intel, and NVIDIA – are included, but so is Qualcomm. Qualcomm of course is not a player in the traditional dGPU or x86 iGPU spaces, but they are a significant vendor in the Windows on ARM space, having their SoCs in products such as the Nokia Lumia tablets. Consequently, with Microsoft continuing to push into the tablet space with Windows RT, it stands to reason that some of DirectX 12's functionality will be tuned for tablets too.
Anyhow, we'll have more details on March 20th when Microsoft makes their formal presentation.
Source: Microsoft