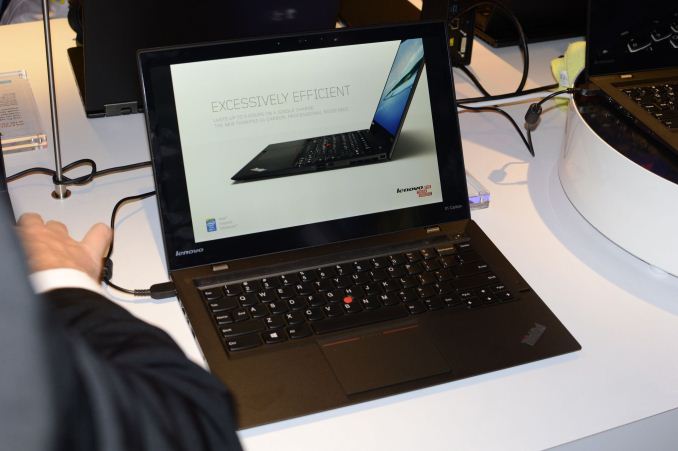 Lenovo had their usual location set up in the AquaKnox lounge at the Venetian, with a huge number of products on display. We'll break things up into the laptop/notebook/multi-modal devices here, tablets and smartphones next, and then "everything else" for the products that don't fall into either of the previous categories.
On the laptop front, the big news is the new ThinkPad X1 Carbon, which has been updated with Haswell, a thinner and lighter design, a redesigned keyboard, a new display, and last but not least a new external dock. The X1 Carbon uses a 14" display and still manages to pack all of this into a 2.8 pound laptop weight, with a promised nine hours of battery life.
Starting with the keyboard, the layout has been modified quite a bit. Gone is the row of function keys, along with seldom (never) used keys like Scroll Lock, Pause/Break, Caps Lock, and Insert. The cursor cluster gets dedicated PgUp/PgDn keys while the Home/End keys are moved to the former Caps Lock location. Caps Lock, if you're wondering, is still available by double-tapping the left Shift key. As for the function keys, the entire row has been replaced with an adaptive LCD panel that can detect and change the available keys based on your currently running application. By default it shows the normal multimedia keys (volume control, LCD brightness, Search, and a few others); load Internet Explorer and you get refresh, new tab, and back keys. You can also cycle to normal function keys or disable the adaptive feature entirely.
The trackpad is also larger this round, with a fully hinged design (i.e. hinges on the top and bottom of the touchpad); the TrackPoint is still present and the top of the touchpad becomes the usual left/right buttons if the system detects use of the TrackPoint. As for the OneLink Dock Pro, it provides two USB 3.0 ports, two USB 2.0 ports, Gigabit Ethernet, DisplayPort, and DVI through a single cable. Pricing for the new X1 Carbon starts at $1299 with availability scheduled for the end up January; the OneLink Dock Pro is available now for $179.
Moving over to the Yoga side of things, there are a couple new laptops to announce: the Yoga 2 Pro and Yoga 2 (with some Yoga tablets as well, but we'll cover those separately). Similar to Microsoft's Surface products, the Yoga 2 targets a lower price and has less advanced features while the Yoga 2 Pro goes "all-in". Besides supporting up to Core i7 Haswell processors (the U-series parts), the Yoga 2 Pro adds a high-DPI qHD+ (3200x1800) touchscreen IPS display and the keys on the keyboard now "lock" when in tablet mode. Availability appears to be "now", with pricing starting at $949. As for the Yoga 2, there will be two models available, one with an 11.6" 1366x768 display and one with a 13.3" 1080p display. The Yoga 2 13" will support up to Core i7 Y-series parts and should last up to eight hours on a charge, while the Yoga 2 11" targets a more budget-friendly feature set with up to Pentium Y-series CPUs and eight hours of battery life. The Yoga 2 11" is available now starting at $599 while the Yoga 2 13" will be available later this month, also starting at $599.
Other laptops were also on display, though I didn't have as much time to look at them. I know there are new IdeaPad Y40/Y50 laptops, with a 4K touchscreen panel available on the Y50. Both models are supposed to be quite a bit thinner and lighter than the previous generation as well. Also shown were a few Flex laptops, including the Flex 15D shown at AMD's press event that has an AMD A6 APU and 300 degree hinge (so not quite a Yoga). There's an Intel Flex 15 available as well, starting at the same $499 as the Flex 15D but going up to Core i7 processors on higher-end models, and a Flex 14 Intel as well starting at $499. All three Flex laptops are available "now".