Introducing the Thermaltake Armor A30
It's pretty clear on our side of the fence that smaller enclosures and leaner builds are increasingly becoming the way to go for most users these days, with even die hard enthusiasts drawn to these smaller cases if for no other reason than to see just how much horsepower they can cram into a small form factor system. There are tradeoffs made in going small form factor, though, and if you go too small the cooling demands can produce system noise that may be too much for many users.
That's why there are slightly larger, Micro-ATX scale enclosures like the Thermaltake Armor A30. Thermaltake's case is designed to support a Micro-ATX motherboard and a substantial video card or two, and the cooling system is remarkably robust. Yet as it turned out, working with the A30 proved to be a remarkably fraught experience, with the case having split personalities. Cooling and acoustic performance were actually quite good, but the case itself is tough to recommend. So what happened?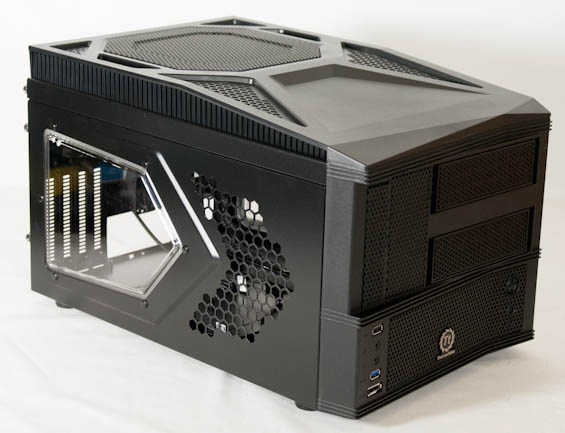 Thermaltake is pretty well known in the industry for being especially press friendly, and given the demand for smaller, more powerful systems, we figured we'd check in with them and see what they had to offer. The Armor A30 turned out to look like a pretty exceptional option, and despite having been around for a little over a year it looked to be a fairly current and competitive offering. This was a case I specifically headhunted, as it's actually roughly the same size in volume as BitFenix's exceptionally popular Prodigy while featuring support for Micro-ATX builds as well.
Thermaltake Armor A30 Specifications
Motherboard Form Factor
Micro-ATX, Mini-ITX
Drive Bays
External
2x 5.25", 1x 3.5"
Internal
2x 2.5", 2x 3.5"
Cooling
Front
90mm blue LED intake fan
Rear
2x 60mm exhaust fan
Top
230mm blue LED exhaust fan
Side
-
Bottom
-
Expansion Slots
4
I/O Port
1x USB 2.0, 1x USB 3.0, 1x eSATA, 1x Headphone, 1x Mic
Power Supply Size
ATX
Clearances
HSF
90mm
PSU
180mm
GPU
9.5" / 242mm
Dimensions
10.5" x 11.5" x 18"
266mm x 291mm x 456mm
Weight
14.8 lbs / 6.7 kg
Special Features
USB 3.0 passthrough
Price
$119
Because the A30 is about a year and a half old, I'm less inclined to ding Thermaltake for using a USB 3.0 passthrough instead of an internal header. What's surprising is the sheer weight of the enclosure. Thermaltake uses a decent amount of plastic, true, but an awful lot of steel. For an enclosure intended for LANs, the A30 is remarkably heavy and unfortunately does not include a handle. Its dimensions are appropriate to a more portable system, sure, but it starts at nearly fifteen pounds.