In and Around the Antec Three Hundred Two
As is typical of sub-$100 cases, the Antec Three Hundred Two isn't particularly flashy. We can be thankful it's not gaudy, but the basic plastic finish and extensive ventilation in the front doesn't do a lot for making the Three Hundred Two much of an eye-catcher either.
The outer shell of the Three Hundred Two really is pretty basic and bog standard. Antec employs a black plastic front bezel with ventilated 5.25" drive bay shields and then a massive amount of ventilation in front of the internal drive bays (note that a pair of 120mm fans can also be mounted here). In place of USB 2.0, however, Antec has included a pair of USB 3.0 ports at the top front of the case next to the audio jacks and power and reset buttons. The USB 3.0 ports are controlled off of an internal header, as has become standard with new enclosures over the past few months.
When we get to the side panels, the left side is business as usual, with a single ventilated fan mount for a 120mm intake fan to blow across the expansion cards. The right side, on the other hand, tries something a little different: there's a 120mm fan mount placed directly below the processor socket, behind the cutout in the motherboard tray. I've seen Antec and SilverStone experiment with this, but I'm still waiting for one of them to actually decide it's important enough to mount a fan there in the stock configuration.
The rest of the exterior is more of the same routine. There's a 140mm exhaust fan in the top of the case, and two rubber-grommeted holes for routing liquid cooling tubes. The back features a 120mm exhaust fan as well, but everything's where you'd expect it to be. Can someone explain to me who still uses these liquid cooling holes, especially when even the highest end rigs I've seen from boutiques don't have any use for them? They're included in nearly every case I review as a matter of course, but in a $79 case I'm just not sure what purpose they serve.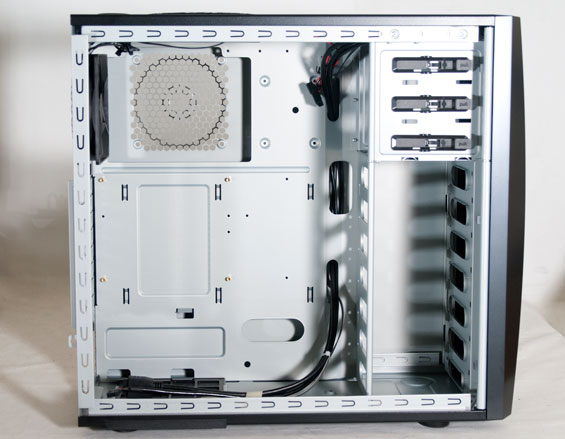 When you do remove the thumbscrews from the side panels and pop the Three Hundred Two open, though, you see a more refined build that's in line with modern case design. In an effort to both maximize case width as well as ensure clean cabling, Antec uses a lateral drive cage and then shifts the motherboard tray away from the side a bit to allow for cables to be routed behind it. The side panels are also hinged instead of sliding into notches, making the enclosure easier to open and close.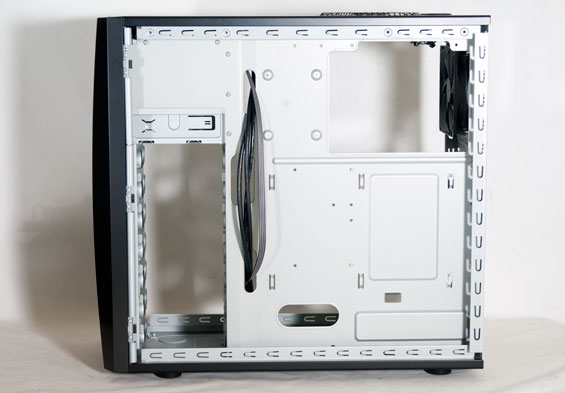 Antec also supplies a surprisingly effective toolless 5.25" drive locking mechanism as well as decent routing holes in the motherboard tray and a large opening in the tray for mounting cooler backplates, a development prevalent in the industry as a result of Intel's staunch refusal to actually fix their heatsink mounting system. [Ed: Die, push pins, die!]
Ultimately the Three Hundred Two's build and design are fairly straightforward, but it's nice to see more and more advances in case design trickling down like this. This enclosure was clearly designed by people with some sense of what enthusiasts want and require, and they did it all without pushing the price too high.