As someone who outright refused to pay for a data plan until late last year, I was never really interested in the cutting edge of mobile broadband technology. Beyond knowing that AT&T had decent data speeds and coverage in areas not involving the letters "NYC" or "SFO" and that WiMAX wasn't nearly as fast in practice as Sprint would have you believe, I didn't have a whole lot of feel for data plans. I'm a poor college student that lives in a world of campus-wide WiFi; I was always either in a place with wireless internet or in transit to a place with it, so why pay the $30 if I didn't really need to?
An increasing number of trips out of town forced my hand, and I started to learn more. I got a data plan just as T-Mobile launched its first HSPA+ phone, the T-Mobile G2. It was faaaast, especially in the greater Seattle area. I was seeing download speeds in the 8 Mbps range and upload speeds around 4 Mbps. For a 3G network, that was insane, and T-Mobile has gotten better since then (though I will never be able to get over the 4G stunt that their marketing department pulled). By chance, I recieved a Verizon 3G version of the Galaxy Tab for evaluation, and I found its ~1 Mbps download speeds to be a bit unbearable in comparison. In my review, I said that Verizon really couldn't get their LTE network deployed quickly enough.
I didn't know what to expect with LTE until CES. I had heard some insane speedtest numbers through the grapevine, confirmed by Brian during his hands-on with the Thunderbolt at Verizon's LTE launch event. 18 Mbps down is pretty solid for a Comcast connection, but it sounded borderline crazy for mobile broadband.
Physical Comparison
LG Optimus 2X
HTC EVO 4G
HTC Thunderbolt
LG Revolution
Height
123.9 mm (4.87")
121.9 mm (4.8")
122 mm (4.8")
128 mm (5.03")
Width
63.2 mm (2.48")
66.0 mm (2.6")
67 mm (2.63")
67 mm (2.63")
Depth
10.9 mm (0.43")
12.7 mm (0.5")
13.2 mm (0.52")
13.2 mm (0.52")
Weight
139.0 grams (4.90 oz)
170 g (6.0 oz)
183.3 g (6.46 oz)
172 g (6.08 oz)
CPU
NVIDIA Tegra 2 Dual-Core Cortex-A9 (AP20H) @ 1 GHz
1 GHz QSD8650 65 nm Snapdragon
1 GHz MSM8655 45nm Snapdragon
1 GHz MSM8655 45nm Snapdragon
ULP GeForce
Adreno 200
Adreno 205
Adreno 205
RAM
512 MB LPDDR2
512 MB LPDDR1
768 MB LPDDR2
512 MB LPDDR2
NAND
8 GB integrated, up to 32 microSD
1 GB integrated, 8 GB microSD preinstalled
4 GB NAND with 32 GB microSD Class 4 preinstalled
4GB NAND with 16GB microSD preinstalled
Camera
8 MP with autofocus, LED flash, 1080p24 video recording, 1.3 MP front facing
8MP with dual LED Flash and 1 MP Front Facing camera
8 MP with autofocus and dual LED flash, 720p30 video recording, 1.3 MP front facing
5 MP with AF and LED flash, 720p video capture, 1.3 MP front facing
Screen
4" 800 x 480 IPS
4.3" 800 x 480 LCD-TFT
4.3" 800 x 480 LCD-TFT
4.3" 800 x 480 LCD-TFT
Removable 5.6 Whr
Removable 5.5 Whr
Removable 5.18 Whr
Removeable 5.6 Whr
Fast forward to two weeks ago, when I received this LG Revolution on my doorstep. The box was similar to the Thunderbolt and relatively unassuming (from the outside at least; the flame red treatment on the inside was only slightly less subtle), as is the phone itself. It's a little bit like the Optimus Black, actually, just a lot thicker.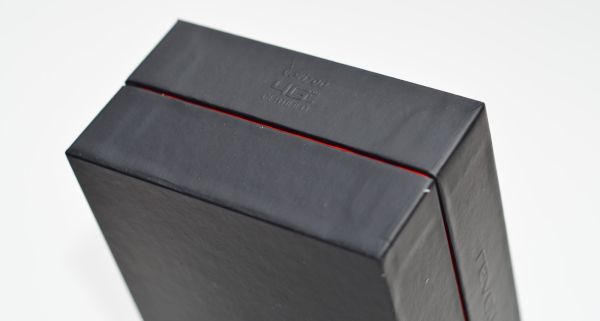 When I first took it out of the box, I texted Brian with "This seriously feels like a gaming notebook circa 2004, the ones that ran hot and were three inches thick." His response? "Yeah, that's basically a good analogy for all LTE phones right now." After years of companies going on and on about the thinnest devices they can make, this is different. As with the Thunderbolt and original EVO 4G, the Revolution is a big F U to the supermodel-thin iPhone 4's and Galaxy S II's of the world.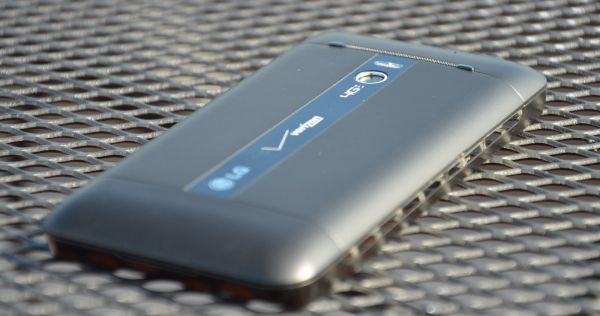 Other than thickness, it's very similarly sized to the other 4.3" phones on the market, so it's not a big adjustment to make. When it's in your pocket, you really don't notice, and for girls that toss their phones into a purse, it probably doesn't really matter either. It feels very substantial in-hand, and you can feel all 172 grams when you pick it up. But it's not uncomfortably large or heavy, it's just bigger and heavier than you expect. The extra transceiver and antenna hardware has everything to do with that size, but it's still a chunky device.