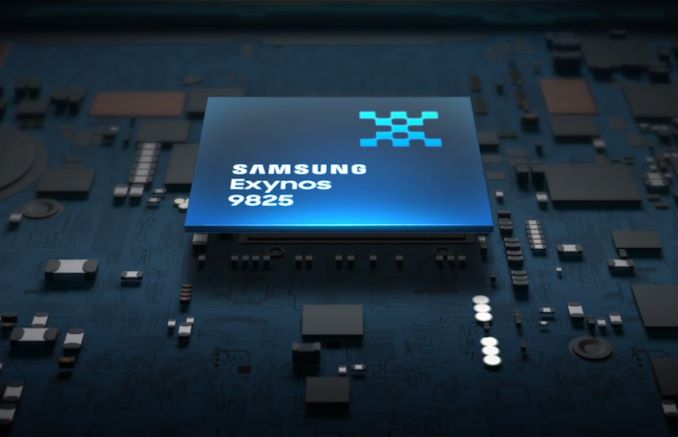 This year's Galaxy S10 has been in a bit of an odd situation: Although Samsung continued to dual-source its SoCs, using both its own Exynos 9820 SoC as well as Qualcomm's Snapdragon 855, the phone found itself in the unusual situation of pitting 8nm silicon against 7nm silicon from TSMC. So although the new Exynos 9820 did fairly well in testing and improved a lot over the Exynos 9810, the chip seemingly still had disadvantages against the competition when it came to power efficiency, likely linked to its process technology disadvantages. On top of the power efficiency disadvantages, the chip also had a notable die area disadvantage versus the Snapdragon, coming in at 127mm² versus the smaller 73mm² competition.
Samsung's 7nm EUV process node was noted as having started production back in October of last year, although we're not sure exactly which chip this was referring to, and we had hopes that it would be the chip for the S10 but alas it was not to be.
This time around, Samsung is seemingly bridging the gap with the introduction of the new Exynos 9825 – a 7nm LPP refresh of the Exynos 9820.
Samsung Exynos SoCs Specifications
SoC

Exynos 9820

Exynos 9825

CPU
2x M4 @ 2.73 GHz
2x 512KB pL2

2x Cortex A75 @ 2.31 GHz
2x 256KB pL2

4x Cortex A55 @ 1.95 GHz
No pL2's

Shared complex sL3 @ 4MB


2x M4 @ 2.73 GHz

2x Cortex A75 @ 2.4 GHz

4x Cortex A55 @ 1.95 GHz
GPU
Mali G76MP12 @ 702 MHz
Mali G76MP12 @ ? MHz
Memory
Controller
4x 16-bit CH
LPDDR4X @ 2093MHz
4x 16-bit CH
LPDDR4X @ 2093MHz
ISP
Rear: 22MP
Front: 22MP
Dual: 16MP+16MP
Rear: 22MP
Front: 22MP
Dual: 16MP+16MP
Media
8K30 & 4K150 encode & decode
H.265/HEVC, H.264, VP9
8K30 & 4K150 encode & decode
H.265/HEVC, H.264, VP9
Integrated Modem
Shannon 5000 Integrated LTE
(Category 20/13)

DL = 2000 Mbps
8x20MHz CA, 256-QAM

UL = 316 Mbps
3x20MHz CA, 256-QAM
Shannon 5000 Integrated LTE
(Category 20/13)

DL = 2000 Mbps
8x20MHz CA, 256-QAM

UL = 316 Mbps
3x20MHz CA, 256-QAM
Mfc. Process
Samsung
8nm LPP
Samsung
7nm LPP (EUV)
The new chip very much looks like a die-shrink/mid-cycle refresh with largely the same IP generation as the 9820, still featuring Samsung's M4 Cheetah cores as well as a Mali-G76 GPU. Samsung also doesn't seem to have changed the clock frequencies of the chip very much: The M4 cores are still running at a peak frequency of 2.73GHz and the A55 cores also run at 1.95GHz. We do see a bump in the frequencies of the middle cores that goes up from 2.31GHz to 2.4GHz.
On the GPU side, Samsung has also stuck with the same GPU configuration as with 9820, using a MP12 configuration of the G76. According to the company the 9825's GPU is clocked higher - so it will outperform its predecessor - however the company has yet to disclose specific clockspeeds.
As for the integrated modem, Samsung has retained their Shannon 5000, a Category 20/13 modem. This modem has a peak download rate of 2 Gbps (with 8x carrier aggregration), while uploads top out at 316 Mbps. We had been wondering if Samsung would be able to squeeze in a 5G modem for this SoC, but it looks like it's just a bit too early for that. Instead, 5G can be accomplished by pairing the SoC with Samsung's 5G Exynos Modem 5100.
The new chip is likely to be featured in the new Galaxy Note10 – Samsung will continue to use Snapdragon chips for some markets, and this could be an explanation for the new chip not having that big improvements on the part of the CPU complex as it's aiming for performance parity with the Snapdragon. We also have to note that Samsung would have to invest the process improvements into improving power efficiency rather than raising performance.
The chip reminds us of the Exynos 5430 from a few years ago which was also a process-shrink to the chip that ended up in the Galaxy S5, representing Samsung's first 20nm silicon. That chip never ended up in the popular flagship products, but seemingly did serve a purpose as a pipe-cleaner and learning platform for the new process node. The new Exynos 9825 could end up in a similar situation, although being used in the Note10, it won't nearly have an as long lifespan as we don't expect it to power the Galaxy S11 next year.
Source: Samsung