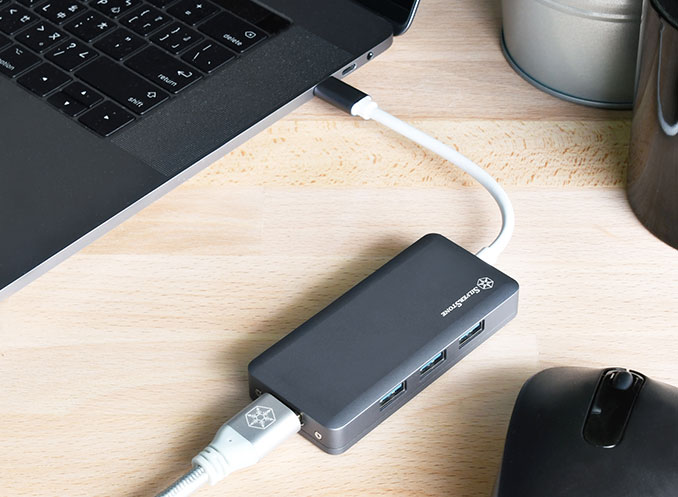 With hundreds of different USB Type-C adapters and docks on the market, manufacturers are trying hard to make theirs more attractive. To that end, they now tend to design rather interesting products addressing focused use cases. SilverStone has introduced its new compact USB-C dock that has three USB-A ports, a display output, and can pass through up to 100 W of power to charge a laptop and/or devices connected to the USB-A ports, a rare feature for small docks.
The SilverStone SST-EP14C dock is based on the Fresco Logic FL5002 USB 3.1 hub controller that supports Power Delivery 2.0 spec as well as the Parade PS176 DP 1.2 to HDMI 2.0 converter. The unit has three USB 3.1 Gen 1 Type-A ports, one USB 3.1 Gen 1 Type-C port (that can be used as a power input as well as a display output), and an HDMI 1.4 connector supporting up to 4096×2160 at 30 Hz resolution (which is a bit odd as the product has a DP 1.2 to HDMI 2.0 converter chip that supports 4096×2160 at 60 Hz).
The key feature of the SST-EP14C is its ability to pass through up to 100 W of power from an appropriate power brick, enough to charge a 15.6-inch notebook and/or devices connected to its USB Type-A ports. Since there are laptops like Apple's MacBook that feature only one USB Type-C connector, the ability to pass the power though a dock is a valuable feature.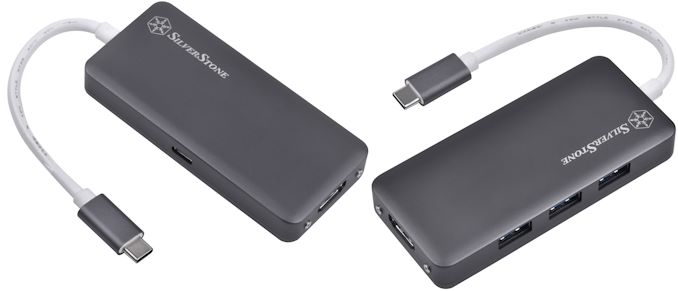 The device comes in a sand-blasted aluminum with plastic chassis that matches design of contemporary laptops from Apple. Measuring 97.2×44×14.7 mm, the SST-EP14C dock weighs 71.3 grams.
SilverStone will start sales of the SST-EP14C dock in late March. The product will cost ¥6,500 w/o sales tax ($58) in Japan, but its MSRP in other countries is unknown.
Related Reading:
Sources: SilverStone, Hermitage Akihabara