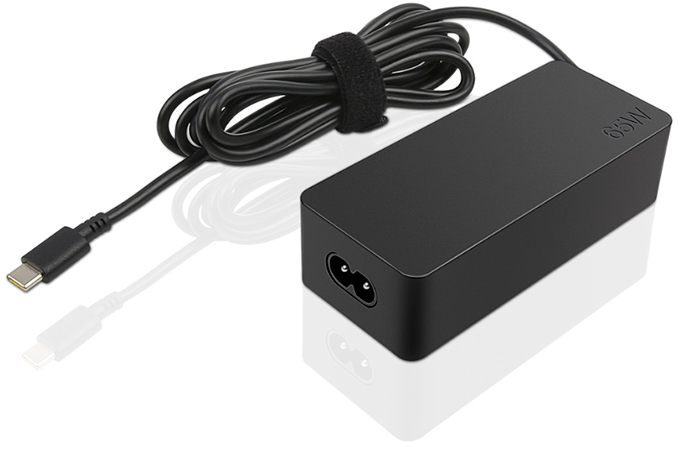 Lenovo has announced that their 2018 ThinkPad laptops based on Intel's 8th Generation Core i3/i5/i7 CPUs will get universal power adapters that use the USB Type-C connectors. The move will greatly simplify lives of road warriors and people who have to charge their notebooks often. In addition, select ThinkPad T-series laptops will get the ThinkShutter physical webcam cover.
Starting this year, all Lenovo ThinkPad models will use universal chargers based around the USB-C connector and the USB Power Delivery 3.0 specification. This does not mean that the new ThinkPad X1 and the ThinkPad T580 will use the same adapter, but it means that one power brick will be compatible with all laptops in the lineup. Of course, the more powerful laptops will be equipped with more powerful chargers, so usage of a charger for a low-power device to charge a high-performance PC will mean slower charging.
Meanwhile, an important thing about universal chargers relying on the USB Power Delivery 3.0 standard is that they are compatible with different notebook brands, so from now on it will be possible to charge new Lenovo ThinkPad laptops using universal adapters that support an appropriate current and voltage combination (keep in mind that officially Lenovo does not promise compatibility with third-party adapters). Such universal adapters can be purchased in various electronics stores and there will be no need to look for a proprietary adapter if you are travelling abroad and lose your ThinkPad power brick.
Traditionally different notebooks used different chargers because of different power requirements. A 15.6" mobile workstation naturally consumes more power than a 12" laptop and it was natural that power bricks supplied by notebook makers for such machines were different. A number of mobile PC makers unified chargers across their product lineups, but did not unify connectors with other suppliers, which is why power bricks from one brand were physically incompatible with notebooks from another. With the emergence of the USB Power Delivery revision 2.0 spec in 2014 and its consequent USB PD revision 2.0 version 1.2 evolution, there is a growing number of smartphones and notebooks featuring a USB-C connector as well as universal chargers from companies like Anker or Belkin.
Related Reading: