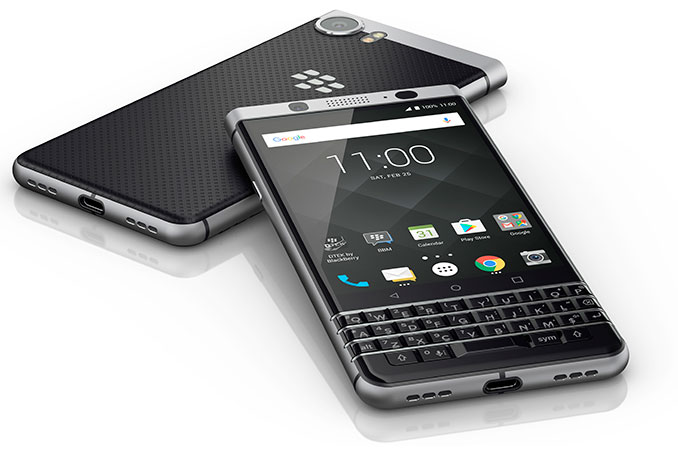 This week at MWC, TCL announced the BlackBerry KEYOne, which follows in BlackBerry's traditional style with a distinctive hardware QWERTY keyboard, but this time a more polished look at an Android implementation. The KEYOne implements a high-capacity battery, Qualcomm's Snapdragon 625 SoC, Android 7.1, a 4.5" LCD display, and a USB-C connector for power and data. The KEYone will arrive in April at around $549.
Last year BlackBerry Limited announced its intention to quit from the development and the manufacturing of smartphones, deciding to focus on creating and licensing its brand, other IP, and primarily its secure software suite for mobile devices. TCL became the primary licensee of BlackBerry and this is a company that will produce BlackBerry-branded devices going forward. TCL is currently the only global licensee of the trademark, so this KEYOne is the first BlackBerry-branded device, aiming at similar markets to BlackBerry's previous products.
The KEYone is not the first BlackBerry-branded handset from TCL (the TCL-developed DTEK50 device released in 2016 essentially uses the same platform as the Alcatel Idol 4 handset), but this if the first one that was developed to be a BlackBerry from the ground up and used a close collaboration with BlackBerry Limited for the design. So, while the KEYone is produced by TCL, engineers from BBL have added their touch to the product. In addition, the phone comes with pre-loaded software from BlackBerry, including the BlackBerry DTEK application that monitor's phones security.
One of the product messages surrounding the launch was that when BBL and TCL started development of the KEYone, they set themselves a number of goals they wanted to achieve: keep the BlackBerry heritage, offer fast connectivity over today's networks, ensure a long battery life, snappy multitasking performance, and make the device sturdy, yet stylish. We're sure that the sales numbers wil be the marker for how well they succeed.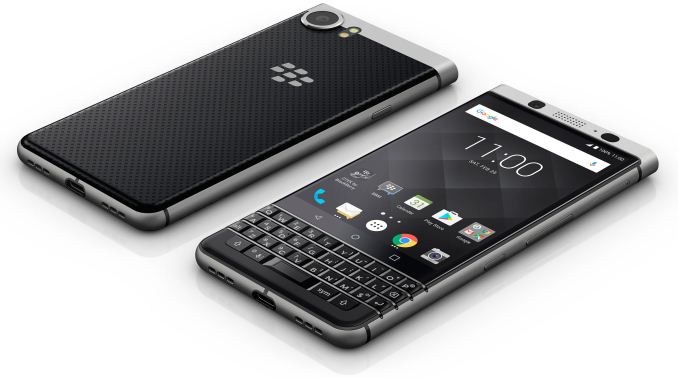 First off, the quintessential value add for BlackBerry users has always been the physical keyboard, so this stays. TCL decided to add functionality to the keyboard beyond just typing, which is why the keyboard becomes an extension to the display as it supports swiping and programmable shortcuts. TCL lists that this functionality is useful for scrolling, photo editing, and opening apps (with various gestures).
Battery life is a major concern of virtually all smartphone users. To make the KEYone last as long as possible, TCL did two things: it installed a ~3500 mAh battery into the handset and also picked up the Qualcomm Snapdragon 625 SoC. The S625 is an SoC we're going to see a lot of in 2017, as an alternative to S652 phones: rather than using 2xA72/4xA53 on 28nm, the S625 offers 8xA53 but on Samsung's 14nm LPP process, so while the latter might actually be lower in peak performance, the smaller node and lower power cores enable significant battery life improvements. On the connectivity side of things, the Snapdragon 625 supports 802.11ac, Bluetooth 4.2 and integrates Qualcomm's X9 LTE modem (Cat 7 LTE, up to 300 Mbit/s downlink and up to 150 Mb/s uplink).
BlackBerry KEYone Specifications
SoC
Qualcomm Snapdragon 625 (MSM8953)
8x ARM Cortex-A53 @ 2.0 GHz
Adreno 506
RAM
3 GB LPDDR3
Storage
32 GB (eMMC)
Display
4.5-inch 1620x1080 (434 ppi) with Gorilla Glass 4
Network
3G: WCDMA (DB-DCHSDPA, DC-HSUPA),
TD-SCDMA, EV-DO, CDMA1x
2G: GSM/EDGE
4G: depends on the version

Canada, LATAM, APAC, US V1:
LTE: 1, 2, 3, 4, 5, 7, 8, 12, 13, 17, 19, 20, 28, 29, 30
TDD LTE: 38, 39, 40, 41

EMEA:
LTE: 1, 2, 3, 4, 5, 7, 8, 13, 17, 20, 28
TDD LTE: 38, 40

US V2:
LTE: 1, 2, 3, 4, 5, 7, 12, 13, 20, 25, 26, 28, 29, 30
TDD LTE: 41
CDMA: BC 0, 1, 10

LTE
Down: 300 Mb/s
Up: 150 Mb/s
Audio
Stereo speakers
3.5-mm TRRS audio jack
Dimensions
see pictures
Rear Camera
12 MP with f/2.0 aperture and dual LED flash
Front Camera
8 MP
Battery
3505 mAh with Qualcomm's FastCharging 3.0
OS
Android 7.1
Connectivity
802.11ac Wi-Fi, Bluetooth 4.1, USB-C
Sensors
Fingerprint, accelerometer, gyroscope, magnetometer, proximity, ambient light
Navigation
GPS, GLONASS (?)
SIM Size
NanoSIM
Colors
Black/Metallic
Launch Country
NA, EMEA (parts), APAC(?)
Price
$549/€599/£499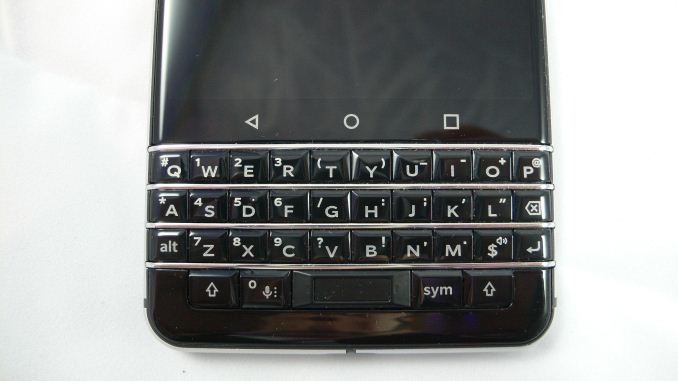 The BlackBerry look is distinctive. There are virtually no phones with a keyboard today, and given the more modern design (compared to say, the Passport), this handset should stand out for more positive reasons. The keyboard uses stainless-steel strips between the rows for touch-type assistance and to aid the look. Since part of KEYone's front panel is occupied by its QWERTY keyboard, the IPS display of the smartphone has a 3:2 aspect ratio in its 1620x1080 resolution, which is unusual for a smartphone.
The KEYOne has a rather unique texture to the back of the device (the material TCL uses for the back side is unknown), which looks like processed leather or carbon fiber, but which is designed to be both sturdy and oleophobic. Moreover, this coating is designed to prevent the phone from slipping from hand during usage. As for the overall feel, the KEYone feels very solid, but its thickness is 0.37", which is considerably thicker than that of most modern smartphones of comparable dimensions (Apple's iPhone 7 is 0.28", the iPhone 7 Plus is 0.29"). Part of this is down to the battery.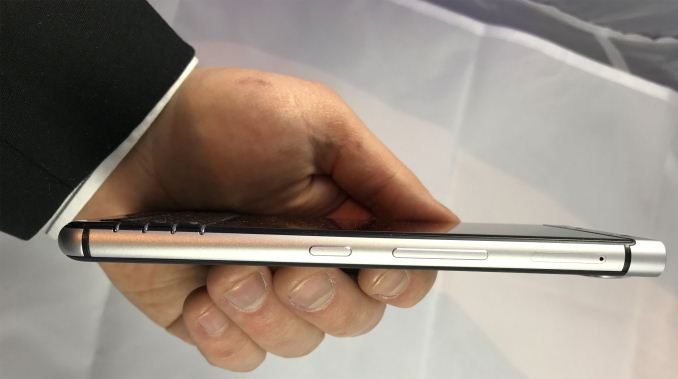 When it comes to imaging, the BlackBerry KEYone uses Sony's Exmor IMX378 and dual-tone flash as its primary camera as well as an 8 MP sensor (with selfie flash via LCD) on the front. Given the fact that the KEYOne is primarily targeting business users, nothing extra special was needed here.

As for pricing and availability, the BlackBerry KEYone will hit the market in April in multiple countries at $549/€599/£499 price points. It's going to be interesting to see how many octo-A53 devices ever reach that price point.
Source: BlackBerry Mobile